C'mon, I know that deep down inside of us, we all tend to want to eat something healthy for a change or there is a slight guilt when we 'over' feed ourselves with either sweet indulgence or lovely greasy fastfood.

Anyhoo, I found a remedy (one of many billion remedies out there) that helps me out in 'cleansing' my body up. I find that us ladies (or perhaps just me) tend to move towards less carbs and more salads when we diet or want to stay healthy. But dieting means restricting the amount of food.

In the world of vegan and vegetarians, one of the biggest advantages is the joy of eating plenty and not putting on a single stone (don't quote me on that though!). That is perhaps my way of understanding things.However, I was told by a friend that food tastes horrible when it comes to eating the vegan way. That is perhaps the most challenging part in healthy eating.

And that is where I fill that challenge with this! I found a rustic gourmet food stall smack in Spitalfield market called Rainforest Creations.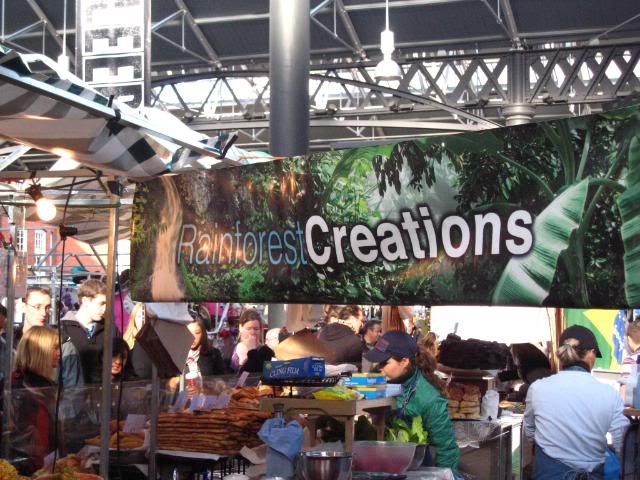 Can't miss this stall for it's uniqueness and food display

You can tell that it did spark my curiousity to try from the moment I saw this. And how it has become my favourite stall to go to if I feel like eating something delicious, scrumptions, abundant and not forgetting healthy without feeling any guilt.
It's all fruits and vegetablesss...they also have cakes and coconut juices too. Very nicely placed to the themes

I bet there is more than 20 different types of ingredients on display. The look and taste that I sense from this stall infuses a somewhat caribbean, tropical-ish theme with a blend of organic, raw, bioorganic and authentic food.

To describe this place further from their paragraph on their
website
:
"Rainforest Creations use raw and living fruits, vegetables, seeds, nuts, herbs, spices and grains which are divine fuel necessary to supremely nourish the brain, the body and the spirit."
<--- they forgot to mention the word 'delicous'
My all time favourite is the Rainforest roti wrap where it's pretty much bits of everything covered on a humus spread pita bread warmed over a stove. Yuummmm.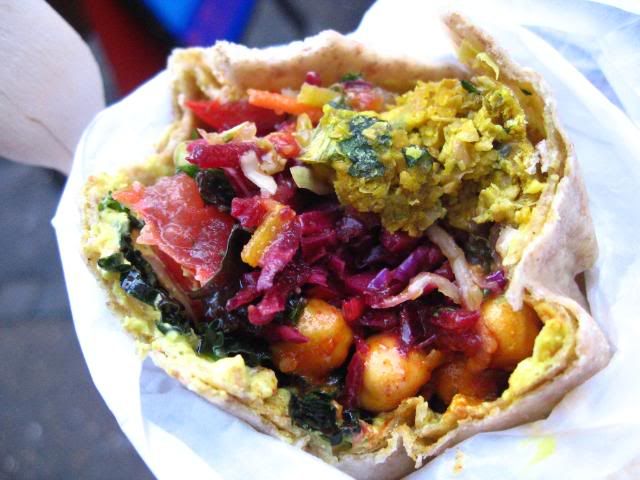 Consist of Tropical coleslaw, Carribbean sunrise, Red Quinoa, Wild Rice, Mung beans & Lentils, Chickpeas, Angel Kate & Avocado...very very refreshing when you bite into it.

And in the mean time, check out the other parts of this market, for it is my favourite market so far. It perhaps has the most amount of unique designers showing off their artistic creations, not forgetting that there is never ending refreshing new ideas coming from this place every time I come here. I give 2 thumbs up to the
orgnisers
who are willing to encourage up and coming artist / designers in making the process much easier to set a stall up and sell / promote / advertise their ideas to the public. And yes, we do all agree that deep down inside we all want to be heard ;).