Another local kuih from Malaysia that I made for a Steamboat session. It does have a similar trait on it's own in the sense that there is cooking and steaming involved.

I used palm sugar for the first time and gosh the aroma was absolutely stunning when I cooked it with the coconut and pandan leaves. Feel like I was high.

Most of my ingredient portion comes from this handy website from Sugar and Everything Nice as well as there are handy tips too when it comes to the instructions. And as the ladies started to gorged each down (as usual) I had one request to add more salt to the filling (shall add that to the list).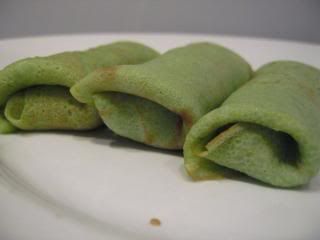 I loved it the moment I took a bite. The outer layer was suprisingly soft, moist and tender. Moreover it didn't taste like a pancake (which I was glad about) and the filling brought back lost memories.
I had another piece straightaway.
Yes, it was sooooo yummyyy....It really has refreshed my memory of my childhood times where of all the dessert snacks that I had, I was always after that brown filling. Now I have the power to make it as much as I want! *evil laugh*
 

Palm sugar (my new love =P) and Pandan juice that was kept in the freezer.

And guess what? My brain is furiously ticking onto turning this into a cupcake of some sort..the blend of East and West. I am so fortunate to be exposed to 2 different worlds of different food styles! All to come soon...
Makes approx 15 x 5" kuih

For the filling:
Ingredients

100g (2/3 cup) plam sugar, roughly chopped (can be bought at an Asian grocery shop)
75ml (1/4 cup + 1 tbsp) water
1 pandan leaf, knotted / 1 tbsp pandan juice if you have already made them
100g (1 cup) freshly grated coconut
1/2 tsp salt

Method

Place palm sugar and water in a pan and cook until sugar dissolves / melt. Simmer for 10 minutes until liquid starts to thicken and become syrupy.
Add the salt, pandan leaf / juice and grated coconut and continue cooking over low heat for 10 -15 minutes until the filing is thick and glossy. Most of the liquid should have evaporated. Cool and use as desired. Keeps well if stored in a covered container in the fridge for about 3 - 4 days.

 

For the Kuih:
Ingredients

150g (1 1/4 cups) plain flour
1/2 tsp salt
1 medium / 2 small eggs, beaten
150ml (2/3 cup) thin coconut milk / plain milk
100ml (1/2 cup less 5 tsp) pandan juice / 2 tsp pandan paste or essence
65ml (1/4 cup) water
1 tbsp oil (I used sunflower oil)
Method

Sift flour and salt into a medium sized mixing bowl. Make a well in the centre and into this, pour in the eggs, coconut milk and pandan juice. Using a whisk, gradually incorporate the flour into the liquid, making a smooth batter free from lumps. (If you should have lumps, just strain the batter using a sieve).

Thin the batter down with the additonal 65ml of water and stir in the oil. Mix well. Cover bowl and allow batter to stand for 20 - 30 minutes.

(I used my batter immediately)

.
Heat a small non-stick frying pan over medium heat. Using a heat-proof brush, lightly brush you pan with some oil. Ensure your pan is sufficient hot

(a drop of water should sizzle instantly)

before starting on the pancakes.
Stir batter, pour about 2 Tbsp of batter into the pan and immediately rotate the pan so that the batter covers the base in a thin layer.

(You want to achieve a pancake size of about 5" circle)

Allow batter to set and just begin to brown. Flip pancake over and allow the other side to cook, just for a few seconds.
Turn the pancake out onto a plate. Continue making the pancakes, stacking the finished ones on top of each other as you go along. As the batter tends to thicken as you cook the pancakes, you might need to thin it down with a tablespoon or 2 of water.

(I did this after cooking halfway)
To assemble both:
Place 1 tbsp of filing about 1/3 bottom of the pancake.
Fold both sides towards the middle and roll the pancake away from you, neatly enclosing the filing and creaing a little parcel.
These steps are shown in pictures if you click here (Christine's Recipes Blog) =)