What: Ironcupcake Competition
Where: Cuban City, Citypoint, 1 Ropemaker Street (Tube: Moorgate)
When: Every 1st Monday of the Month
This month's theme: Spice
BIG THANK YOU to the organisers (the Cake Crusader) who really made a HUGE effort to make the competition popular and wonderful!

Personal challenge: Making it Vegetarian
Original recipe: Chai Latte Cupcake with Cinammon honey cream cheese frosting (Thanks to Couture's Cupcakes blog)
.
.
.
.
.
Ready for my version?
.
.
.
.
.
Behold, the alternative vegan recipe...


Chai Latte Cupake

with

Cinnamon Syrup Yogurt frosting

with a hint of

peppermint
What a long winded title...I made some gingerbread shortbread to go with it
It was my first ever entry and boy it was the first time that the whole table was filled with over 30 entries! Very tough competition indeed. And my biggest mistake was not making enough =(. I made 12 and wished I made more to accomodate for the 100 over tasters that night. It is always the 1% that I missed out on that differentiate the winners from the rest (Talk about being competitive LOL). I was glad that the cupcakes turned out spongy and moist as I didn't manage to taste them (only made 12). I did bake my first batch but it sunk (and so my heart sunk 10x more) so I pretty much used that batch to make my icing.
Anyhoo, was very very appreciative to have friends there to support me and I was even more so happier that they enjoyed the event in which was more important than anything. Thank you for being there for me!
Note: I am no vegan person...I admit I am health concious, but I purposely made them as a challenge for myself and to understand more about the alternatives for food and what they do. Yes, I am such wanderer. I just love exploring the 'what if's' and I can't just hide this immense curiousity in me!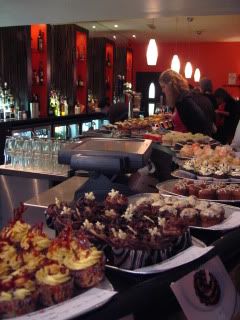 The amount of cupcake entries that night o.O. All over to the other side
To view more pictures, head to my
album
=)
Makes 12 muffin sized cupcakes
Ingredients
For the Chai Latte Cupcake
2 x Tazo brand Chai Tea bags from StarBucks - this brand was particularly picked out base on my research on Chai teas (I actually bought all the ingredients to make my own but have no grinder available). This teabag consist of herbs such as cardmom, star anise, cinammon, ground black pepper, ginger and black tea. Very reasonable price too.
1/2 cup boiling water
1 1/2 tbsp granulated sugar
1 1/2 tbsp soy milk
2/3 cup plain soy yogurt (Brand: Alpro)
1 tsp baking soda
1/2 tbsp soft brown sugar
30g margarine, melted
1 cup (110g) plain (all-purpose) flour
1 tsp vanilla extract
1/4 tsp salt
2 x Eggs replacement - 2 tbsp baking powder, 2 tbsp cider vinegar, 2 tbsp boiling water

For the Cinnamon Syrup Yogurt Frosting
250g / 1 cup margarine
2 tbsp plain soy yogurt

1 tbsp syrup (Brand: Lyle's)
1-2 cups icing sugar (I add this in tbsp quantities to suit taste)
1-2 tbsp milk (I add this last in tsp quantities to create the texture I want)
1 1/2 tsp ground cinammon
2 tsp green colouring
Pinch of peppermint flavouring

Method
For the Chai Latte Cupcake
In a measuring cup, add the 2 tea bags to the boiling water and let it simmer for 1 minute. Add the soy milk and granulated sugar after and give it a good stir. Let the mixture simmer for another minute before draining the tea bags.
Preheat oven to 180DegC (350 F). Line 12 capacity muffin tray with muffin liners.
Combine yogurt and baking soda and stir. Set aside.
Combine brown sugar and melted butter. Beat it by hand for 1 minute until mixture is mixed, i.e. sugar is spreaded evenly across the batter.
Add the tea, yogurt mix, vanilla extract and mix by hand until batter is smooth (these are the wet ingredients)
Sift the salt and flour after and mix until batter is smooth.
In a separate bowl, combine vinegar, boiling water and baking soda. The mix will fizz initially. Keep stirring until the mix settles.
Fold this last into the batter.
Evenly divide the batter into the cupcake liners.
Bake for 20 minutes or toothpick comes out clean.
Allow cupcakes to cool completely before frosting.
For the Cinnamon Syrup Yogurt Frosting
Cream margarine until light and fluffy.
Add the plain soy yogurt and syrup and mix the batter until they are mixed thoroughly.
Add the ground cinammon.
Alternate the icing sugar and soy milk. And add more of anyone to taste if necessary.
When you're happy, divide the batter in half and add the green colouring and peppermint to one of them.
Using a knife, slide each batter to one side of the icing bag. Tap it down until both of them combines
Frost anything you want to your heart's desire...