What: Another Ironcupcake competition but it's done online
Theme: Apples

Another competition which I'm so keen to take on. This will be my first online entry ever and it has been an amazing experience. It all started,

Once upon a time....in the beginning of November or thereabouts...

So happen my friend was only here in London for a week and she requested red velvet cupcakes since it was ultimate her favourite cupcakes. Being me, I was keen to bake for any occasion, from parties and gatherings to the point of a joking request. But in conjunction to that, I decided to try for this competition which was themed apples.

As my creative juices were bursting, I got really excited as red velvet cupcakes depict the red colour skin of an apple and so I thought I could add something yellow inside and green on top. As well as they are known for as the 'devil's' cupcakes, I got all crazy with naming and personalising my cupcakes base on the bible, christianity and adam and eve etc. (no, this doesn't mean that I religious as such, but you just can't run away from the fact that at least 80% of world's population are Christian and each one of us know at least 1% of what the bible speaks). I decided to make my version of cupcakes blending the theme and the lovely red velvet cupcakes which I made for the first time. Behold, I call this:

Hidden Fruit of Eden

(Thanks to my dear D who came up with that name :* ).

aka Red Velvet Cupcake with Apple (green) and Cream Cheese Frosting
 

It all started with attempting to 'hide' an apple the red velvet cupcakes idea.
Hmm...real apple fruit, apple batter, apple juice, apple flavour, yellow colour, green colour, red colour...*feel like eating an apple*

Attempt 1: Wishing I had more skills, I wanted to carve a smaller piece of apple into the red velvet cupcakes but I could not think of the best way. So the next easiest thing I thought was to put an apple batter into the cupcakes and try to make an apple shape out of it.

It didn't work...and my cupcake batter too much it spilled all over the oven =( my heart sank 10 times more just watching it go to disaster.

Ok, attempt 2
:
Bake proper red velvets but sneak an apple icing into the cupcakes without her knowing
*Evil laugh* I was becoming excited as I did them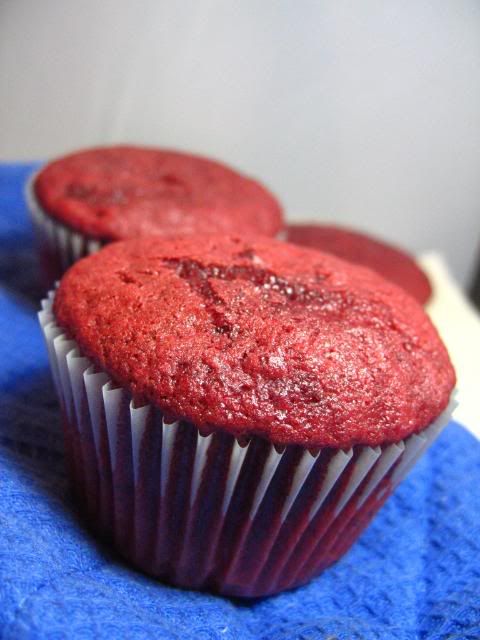 Process of making the red velvet cupcakes. It was a whole new experience since it was my first time making them...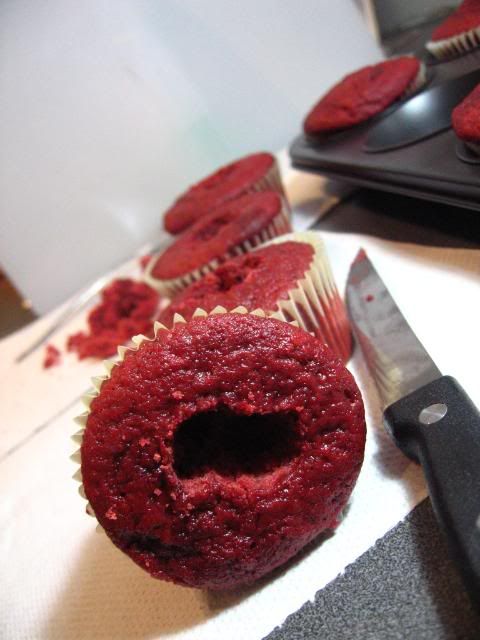 Now for the sneaky bit. Digging a hole and adding some cream cheese inside first so that it holds this 'secret' icing in the middle

Now you see them


Now you don't mwahahah (imagining a wicked witch laughing when the potion sizzles)

And then topping up with cream cheese as usual, to hide all evidence...

The apple icing has a tinge of sourish in it but it goes well with the sweet red velvet as well as topping up with cream cheese? You can't go wrong, it was sinfuly, deliciously, juicily amazinnngggg...
So pretty pretty please:
Vote ME
<--------- it's not hard, just click and click again ;)
Voting starts on Friday,

November 27th at 8 p.m

. at http://www.ironcupcakemilwaukee.com and will be open through Thursday,

December 3 at 12 noon

.
(Don't worry, I'll remind you folks again ;))
Am competing to win the following Earth Prizes and they are Amazing! They are:
Here are the steps if you're keen to make them
Red Velvet Cupcakes
(makes 12)
Taken from
joyofbaking
Ingredients

1 1/4 cups (125 grams) all purpose flour
1/2 tsp salt
1 tbsp (7.5 grams) cocoa powder
1/4 cup (60 grams) unsalted butter at room temperature

3/4 cups (150 grams) granulated / caster sugar
1 large egg
1 tsp pure vanilla extract
1/2 cup (120 ml) buttermilk
1 tbsps liquid red food coloring
0.5 tsp white distilled vinegar
0.5 tsp baking soda
Method

Preheat oven to 350 degrees F (175 degrees C) and place rack in center of oven. Prepare a 12 cupcake tray with muffin liners. Set aside

In a mixing bowl sift together the flour, salt, and cocoa powder. Set aside.
In bowl of your electric mixer, or with a hand mixer, beat the butter until soft (about 1-2 minutes). Add the sugar and beat until light and fluffy (about 2-3 minutes).
Add the egg, beating well after each addition. Scrape down the sides of the bowl. Add the vanilla extract and beat until combined.
In a measuring cup whisk the buttermilk with the red food coloring. With the mixer on low speed, alternately add the flour mixture and buttermilk, in three additions, beginning and ending with the flour.
In a small cup combine the vinegar and baking soda. Allow the mixture to fizz and then quickly fold into the cake batter.
Divide the batter evenly between the 12 cupcake liners and smooth the tops with the back of a small spoon.
Bake in the preheated oven for approximately 25 - 30 minutes, or until a toothpick inserted in the center of the cakes comes out clean. Cool the cakes in their pans on a wire rack for 10 minutes.
Cream Cheese and Apple flavoured frosting
Ingredients

1 1/2 (360 ml) cups heavy whipping cream
1 - 8 ounce (227 grams) Philadelphia cream cheese
1 - 8 ounce (227 grams) tub of Mascarpone cheese
3/4 teaspoon pure vanilla extract
1 cup (115 grams) icing sugar
1 tsp syrup

3 tbsp (45ml) freshly squeeze apple juice
2 tsp (10ml) lemon juice
3 tsp dark green colouring
1/2 tsp yellow colouring

Method for Both Frostings
In your food processor, or with a hand mixer, process the cream cheese and mascarpone cheese until smooth. Add the vanilla and confectioners sugar and process until smooth. Transfer this mixture to a large mixing bowl.
Remove 75ml of the double cream to separate bowl and pour the rest into another bowl. Then, in another bowl of your electric mixer, or with a hand mixer, whip the cream until stiff peaks form for both the bowls.
For the cream cheese frosting: With a large spatula, gently but quickly fold a little of the whipped cream into the cream cheese mixture to lighten it. Then fold in the remaining whipped cream, in two stages. If the frosting is not thick enough to spread, cover and place in the refrigerator for an hour, or until it is firm enough to spread.
For the apple frosting: Combine the apple juice, lemon juice, syup and green and yellow coloring until combined. You should get a more liquid layer but to the point when you slowly raise the beaters the batter will fall back into the bowl in a slow ribbon.
Step by steps on to inserting the filling into the cupcakes can be found here