And so I found the perfect way to get rid of the Pandan leaves that was taking up so much space in our little tiny freezer. Well, this event made me took some action if not it'll still be lying in the freezer taking up space. I know there was the alternative to blend them and freeze them in ice cubes as they will last longer but procrastination seems to be my best friend lately. Anyway, there was a gathering happening this weekend and so I decided to attempt to make an Asian sweet dessert done through steaming instead of baking. It did turn out and taste quite good actually. I may have over steamed it to the point that the texture was slightly harder but all good in the end.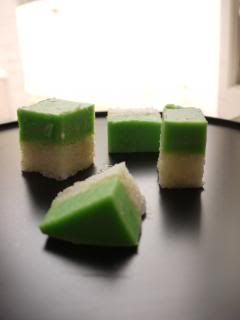 The really cool part was that I had to come up with a tool to make my DIY steamer pot aka frying pans and forks haha...here is the
link
to the original recipe but I had to change the quantities for my cake pan.
Makes one 8" round pan

Ingredients

For the glutinous rice layer

350g glutinous rice, washed and soaked in water for 4-5 hours
300ml liquid coconut milk
3/4 tbsp salt
3 pandan leaves, knotted
1 tsp oil
For the Green layer

3 eggs
120 castor sugar or Gula Melaka
3-4 pandan leaves blended in 200ml water (or you can blend more leaves in more water but use 200ml for the recipe)
350ml thick coconut milk
1/4 tsp green colouring (add to suit)
100g all-purpose flour
3 tsp corn flour
Directions
For the bottom layer

Combine glutinous rice, salt and santan in a 18cm round cake pan. Place the screwpine leaves on top of the mixture and steam over rapidly boiling water for about 30–35 minutes or until cooked through. (I cook mine in the rice pot.)
Discard screwpine leaves. Fluff up the rice, then press rice firmly down with another cake pan to even up the surface. A spatula can also be used.
For the top layer

Stir eggs, sugar, thick santan, 1 tablespoon pandan juice and flour until sugar is dissolved. Make sure you scatter the flour to avoid them from clumping up.
Add green colouring and salt to mix then strain the batter.
Just before pouring in the green batter, scratch the lightly surface of the steamed rice with a fork.
Pour 1/2 of this egg custard over the steamed glutinous rice and steam for 10 - 15 minutes until cooked. Use a fork and scatch surface, then pour in the balance of the custard, steam further another 10 - 15 minutes until cooked. (steaming time varies depending on the heat of steamer).
Allow mix to fully cool before cutting it for serving
This is my DIY steamer: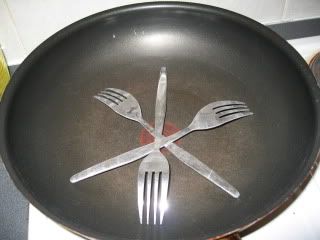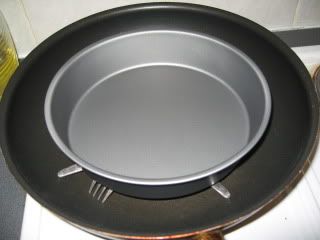 Ta daaaa...and I use the base of a 12" cake pan to cover it =) and this was thought out by my D.