Must be some temporary phase that I'm going through, either that I am in the midst of using the same ingredients for different dishes heh. The best part of this is that you can actually freeze the dish for about a month! It is also quite simple to make but of course the more pre-preperations you do, the tastier it'll get ;).


This dish is also seen when you go to a yum cha restaurant, where they serve it in lotus leaves. I wanted to get those but they were selling it in bulk :S. Also, my dear d suggested chestnuts, not water chestnuts because he thought that it was part of the ingredients but it wasn't!Haha, but it did taste rather good with it, so no harm trying it ;)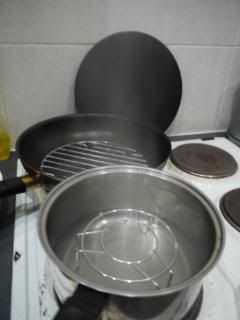 My ever ready steaming devices...
*kvt27 is going through some tim sum / yam cha phase*