And a very Happy Birthday to me! :). I was feeling rather 'giving' today and attempted to make those Chinese New Year Peanut cookies for the office. As well as there was this big bag of uncooked peanuts hibernating quite comfortably in the shelf since last year, haha. The steps are quite interesting as the difference between this and a normal cookie batter is that the egg is not mixed but rather used much later in the baking process.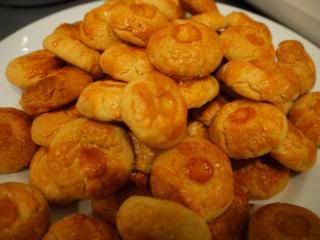 Anyway, I kinda went abit nutty...as usual...
Yes, I actually peeled the nuts, one by one
  
Word of advice:
Get ready made roasted peanuts. This was quite a mission! It may only way 250grams but my fingers were all sore towards the end.
But I actually learnt a new tip on how to get rid of the skin off the nuts quickly. To roast them before peeling them of course, rather than peel them first....here's a good website to go to for more instructions.
It was a great day regardless, with wishes from work, and family were racing to wish me at 12am my time and it ended with 3 high notes:
Suprising flowers from my family, my favourite Japanese restaurant and more wishes on Facebook!
Thank you all for making my busy Wednesday too wonderful :)
Makes 65 cookies if you use 1/2 tbsp to shape your cookies
Ingredients
260g roasted peanuts, de-skinned and grind it through a blender until fine
260g plain flour
130g melted butter / oil (peanut oil is recommended)
150g castor sugar
1 egg, beaten
 
 
Instructions
Preheat oven to 160degC (350degF) Gas mark 4.
In a large bowl, place all ingredients together except for the egg.
With your hand, mix the batter until fully combine (

see pictures above

). The batter will be abit more crumbly than a normal cookie batter.
Using your hand, grab about 1/2 tbsp of batter and make a round shape.
Use a tool or fingers to create a hole in the middle of the cookie. This will be important for the next step.
Grease or line an aluminum foil or baking paper on a flat tray.
Place cookies about an inch apart.
Brush the egg over each cookie.
Place the tray in the oven and bake them for 10-15minutes.
They were all eaten within 5 minutes of leaving them in the kitchen!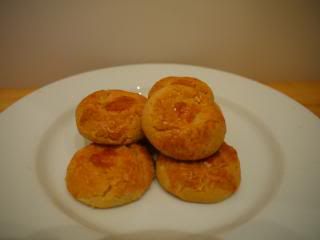 Made sure I saved some for Wicklow Kitchen ;)