I had to think for awhile on the title above as I was actually 'attempting' to make green tea cupcakes. As a 'punishment' for being stingy, it turned out to be cocoa cupcakes with red bean toppings...and a hint of green tea.


Yeah, I only used one tea bag and didn't bother to get green tea powder. Then again, those Matcha powders are extremely expensive! There were super cheap ones too like 50p but I didn't dare poison my lovely friends...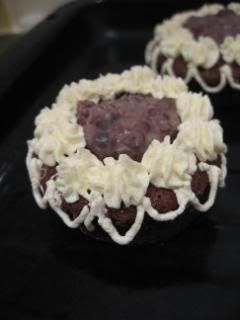 The cupcakes liners were kinda peeling off so I peeled them off coz it didn't give a nice look. Kinda wondering what happened there as I only just took off the milk from the batter. I guess I got lazy in creaming the butter and sugar bit.
Things kinda went from bad to worse as I was trying to avoid cream in my icing :(. The mascarpone cheese that I relied for it's texture went frozen. So I had to whip double cream and added my yogurt batter for taste. Sigh, and all I wanted to do is to use alternative ingredients to replace cream cheese.
Oh well, it's all a good excuse to practice icing! Just hope my friends don't mind the superbly different cupcakes to what I promised tonight.
Green tea cupcakes
Makes 12 small cupcakes
(Some ingredients taken from the
humming bird bakery
book)
Ingredients
100g plain flour
20g cocoa powder (

am wondering why this is used

)
140g castor sugar
1 egg
40g butter/
1.5 tsp baking powder
120ml boiling water
2 tea bags / 10g tea powder
1 tsp vanilla extract
Method
Pre-heat oven to 170degC (350 degF). Line 12-muffin tins with cupcake papers (

cupcake size

).
Add the tea bags to the boiling water and let it simmer.
Sift the flour, cocoa powder and baking powder together.
Add castor sugar to the dry ingredients and mix.
Mix the wet ingredients together (butter, egg, vanilla extract).
Add the dry to the wet slowly

(to avoid 'splashing')

.
Finally fold in the tea mix.
Pour into each cupcake tray about 2/3 full. I used a spoon and teaspoon to divide the batter.
Bake for about 10-12mins or until the tops spring back when lightly touched or an insert toothpick comes out clean.
Remove cupcakes from pans and allow it to cool for 10 minutes before icing.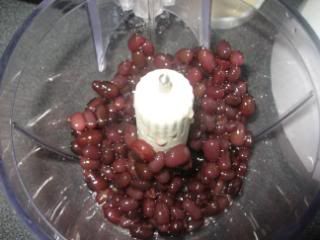 Red bean filling
Ingredients
4 tbsp of Red beans

(I was lazy to cook them from raw, so I bought a bottle with syrup)

unmashed. Click here if you want to know how to properly cook these beans.
2 tbsp greek yogurt

(My yogurt came with honey)

1 tbsp honey
Method
Mash the red beans and mix it with the yogurt. Set aside.
 


Alternate Cream cheese frosting
Okay I can't really define the amount I use because I made so many mistakes. But this is the estimate of amount that I didn't go over for making the icing. It also all depends on a person's preferences too.
Ingredients
No more than 50g Mascarpone Cheese
No more than 2 tbsp Greek Yogurt
No more than 100ml Double Cream
No more than 2 tbsp Icing Sugar
Method
Mix every together before whipping them with an electric whisk.
Slow your whisk as soon as it starts to show soft peaks. You want to avoid it from curdle.
It would be wise to whip the cream in a cold bowl, as it will show it will stiff up at the right time.