The Ironcupcake UK challenge for March is: The perfect pair. I'm only allowed to create a cupcake with two flavours

The moment I read the challenge, the 2 flavours I thought straight away is: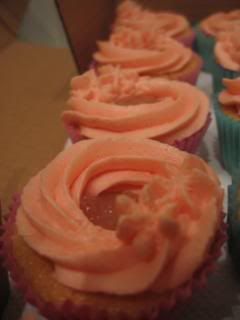 But instead of just an icing and the cupcake, I made another
texture
to 'spice' things up ;)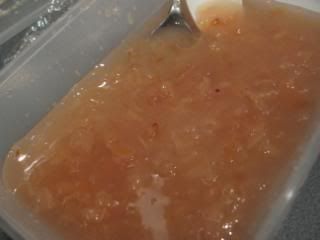 I attempted to make
Lychee jam
!He he, well it's sort of like jam but not done well as fruits are normally removed from the mixture to form a nice texture. I wanted a 'puree' type texture so that people can taste the fruit when they eat it.
Wish me luck...this round there is category whereby the winning are split up to 2 groups: Amateur and Professional. So we'll see how things go. I've also baked smaller portions of cupcakes and made a sponge vanilla cake instead so that it makes it easier to eat and taste, talk about being serious in the competition.
But if you're keen to grab a light snack / dessert, grab this recipe because it's got a light texture and filling to it.
For the cupcake
Makes just about 42 small cupcakes or about 24 muffin size cupcakes
Ingredients exactly are taken from my
previous post
on my pandan chiffon cake but without the pandan essence. I was abit worried that the cake may not rise as it 'requires' the wall of the cupcake to rise. But it turned out alright after all, I was happy!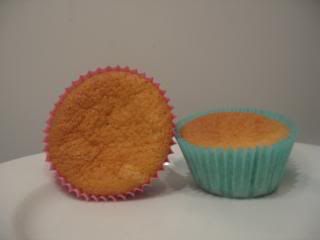 my cupcakes looks like it's crying 'please dress me up'!
For the Lychee jam
Ingredients
240g of lychee (1 can of lychee)
240g of sugar
1 tsp of lemon
Method
Blend the lychees and empty it into a pot including the juices.
Add sugar and lemon and bring the pot to boil.
Keep stirring for another 5 minutes.
To test whether the mixture has a 'jam' like form, place a clean saucer in the freezer before cooking the lychees.
As the mixture boils, quickly take a teaspoon of mixture and place it on the saucer.
It should hardened into a jelly like form. If not, keep cooking for another 2 minutes.
Leave it to cool, keep it refrigerated after.
Lychee Buttercream icing
Ingredients
250g butter
2 tbsp double cream
1 cup of icing sugar
1 tbsp lychee syrup
Method
In a large bowl, cream the butter until soft.
Add double cream in .
Slowly add the icing sugar in tablespoon portions (you don't want it to scatter as you mix).
Add the lychee syrup after.
I actually screwed up the buttercream mix by forming a 'curdled' texture, so I panicked and went straight and googled 'saving buttercream'. Lo and behold, 2 links came up to save the day;
911baking
and
Recipe Rescue
. Thank goodness I used buttercream because it is such a flexible and safe icing to make (phew)
What I did with the extra batter as I made 36 cupcakes instead