Must be some temporary phase that I'm going through, either that I am in the midst of using the same ingredients for different dishes heh. The best part of this is that you can actually freeze the dish for about a month! It is also quite simple to make but of course the more pre-preperations you do, the tastier it'll get ;).


This dish is also seen when you go to a yum cha restaurant, where they serve it in lotus leaves. I wanted to get those but they were selling it in bulk :S. Also, my dear d suggested chestnuts, not water chestnuts because he thought that it was part of the ingredients but it wasn't!Haha, but it did taste rather good with it, so no harm trying it ;)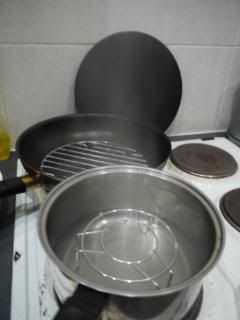 My ever ready steaming devices...
*kvt27 is going through some tim sum / yam cha phase*
The ingredients below make enough for about 3-4 lotus dishes. But if you want to have it as a meal, it's enough for 2 people =)
This recipe is in reference to
lily's post
Ingredients
200g glutinous rice.
250g chicken tighs if you don't want to add other meats.
10g dried chinese mushroom soaked and cut into thin slices.
6 water chestnut cut into smaller pieces for 'additional taste'
Meat seasoning
1 tsp light soy sauce
1 tsp sesame oil
1 tsp oyster sauce
1 tsp ginger juice (I used normal ginger cut to fine pieces)
1 tsp sugar
1/4 tsp pepper
1/4 tsp salt
1/2 tsp Shao Hsing Hua Tiau wine (optional)
1 tsp oil
1 tsp tapioca flour / cornstarch (optional)
Rice seasoning
1 1/2 tsp light soy sauce
1 tsp pepper
1 tsp sugar
1/2 tsp salt
2 Tbsp oil
1 tsp sesame oil
1 tsp dark soy sauce
1/2 tsp Chinese five spice powder (optional)
   

Method
Wash glutinous rice, then soak it for two to three hours.
Steam it for 30 minutes

(I use a rice cooker. Alternatively,

click here

if you want to cook it on a stove).

Cut chicken into slices. Marinate with

meat seasoning

above for about one to two hours or overnight.
Heat oil in big glass bowl and microwave for 2 minutes. Add the chicken, chestnuts and mushrooms, microwave on high for 2 minutes , stir and cook for another 1 minute more.

(Alternatively you can stir fry this on a pan.)

Mix the glutinous rice and the

rice seasoning

above.
Grease 2 bowls that you intend to use for steaming and shaping.
Fully drain and arrange the mushroom slices, chicken and chestnuts on the bottom of the bowl.
Divide the rice batter into 2 and top up each bowl with it, pressing them down with a ladle or spoon.
Steam for 30-40 minutes.
Turn over the rice bowl onto a plate and serve or leave to cool before wrapping tightly with wrap and then foil, leave in the freezer. When you need to eat them, remove the foil and microwave until heated through.
Loh Mai Kai can be eaten with garlic chilli sauce.