If you are a sweet tooth like me who loves her ice cream, go check out Thornton's chocolate shop as they have an ice cream section when you pass their store. It's everywhere in the city.

To think that the price is abit more from the usual ice creams you buy from the supermarket, I'd say this is worth getting for. Packaged ice cream just don't feel / look / taste the same then when you actually get a person to scoop it for you. LOL. I'm sooooooo spoiled. As well as the main difference with this store to the others is the wafer cone that you get from them.

Well, it isn't really worth getting one scoop as it is £2 and you don't get the wafer cone that I am after.

For £2.50, you get 2-scoops, a chocolate coated wafer cone, a tad larger from the usual cones and plus you get a chocolate stick too for free. The wafer is not those that tastes plasticy and light. It is proper wafer coated with proper quality chocolate. And on some occasions, you get to sample a free piece of chocolate from the shops :)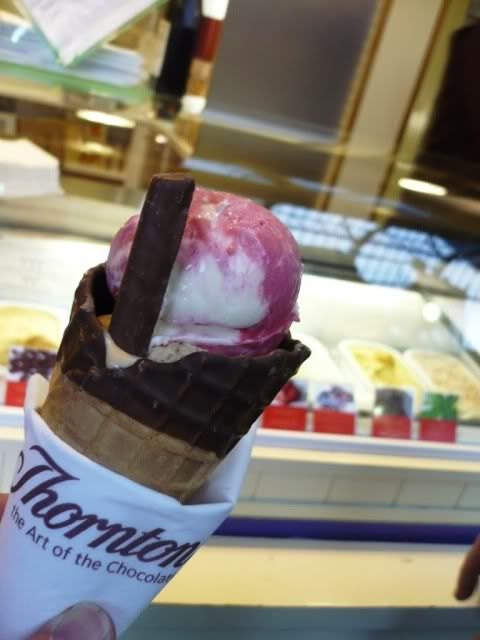 Mmmm...Ooozing in your mouth...

So if you're in for a quick fix, head to your nearest
Thornton's
store. Mine
unfortunately
fortunately is situated on the way home from work on Chancery Lane.
Have you had your fix yet? ;)