We were at La Tasca again the other week night and ordered dessert this round: Lemon Cheesecake. And so D suggested why not I make a cheesecake at home since he craves for it. And he wants strawberry flavoured too.

I got super excited and started browsing on recipes, muahahaha. There were so many different types and being ultra-adventurous as usual, I didn't want to make a plain simple one. I wanted to be creative kekeke.

So I was thinking of making a layered dessert cheesecake of some sort. Something with a fuse of the New York baked cheesecake and strawberry flavour. I couldn't find a direct recipe. So then I turned to baked strawberry cheesecake instead. Apparently baked cheesecakes and non-bake ones are of separate species, hence I was abit uncertain about what strawberries in the batter would produce. Also, I would prefer the taste of a baked one of course, heh.

With the sweet base, sourish and fruit buds middle base out of the way, I love adding another sweet tinge: White chocolate. Ah hah, not to mention I want to add one sourish layer as the final piece: a strawberry coated layer. And all of this will be done in 4 lovely cute remkins. Perfect dessert for a couple, perfectly sinful in a small portion.

Are you ready?
.
.
.
.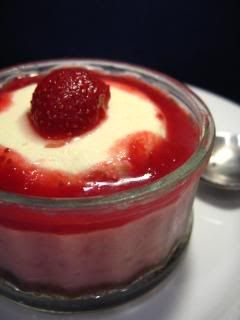 My dear D absolutely gorged it down even before I finished mine!

Makes 4 small ramekins
(the ones you get from the
Gu
packages)
I started off with the top layer as that takes the longest to prepare (baked cheesecake takes time, just like waiting for cheese to mature, LOL)
For the top layer, New York Cheesecake
(courtesy of
joyofbaking's recipe
):
Ingredients

167g cream cheese
33g granulated sugar
6g plain flour
1 egg.
1 tbsp (15ml) whipped double cream

(I got the smallest tub and saved some for the next layer of my dessert)

.
Squeeze of lemon juice
Squeeze of vanilla essence
Squeeze of strawberry essence
Method
Preheat oven to 350 deg F (170 deg C). Grease only 4 of the cupcake tray of your 12-cupcake baking tray.
In a bowl, place the cream cheese, flour and sugar and mix using an electric mixer or a hand whisk at the egg and mix it thoroughly.
Further fold and mix the cream, lemon juice, vanilla and strawberry essence.
Only whisk / fold to the point that the batter is mixed, don't over mix the batter as it doesn't require air incorporated. Only take about 1-2mins.
Spoon the mixture evenly on to the 4 cupcake trays. It doesn't have to be full.
Bake for 15 minutes.
Bring temperature down to 250 deg F (120 deg C) and continue to bake for another hour or until the cake looks semi firmed.
Leave the cupcake tray out on a wire rack to cool.

While waiting for the 'cupcakes' to bake, I proceed to do the other 2 layers...

For the base:
Ingredients
4 digestives or 60g of Amaretto / Biscuits of your flavour.
1 tbsp Soft Brown sugar.
2 tbsp oil.
Method

Place the biscuits in a plastic bag.
With a rolling pin, mashed them into fine crumbs. Start of by hand.
Pour it into a bowl and add the sugar and oil.
Mix till incorporated.
With a teaspoon, pour the mixture evenly into 4 ramekins, pressing them down tightly until it forms a nice base. Refrigerate.
   

For the White Chocolate Strawberry Cheese cake
(Referenced but not entirely to
bbcgoodfood's recipe
):
Ingredients
15g (1tbsp) melted butter / oil.
50g white chocolate melted.
50ml whipped double cream.

100g cream cheese of your choice

(I use

Philadelphia

's)

.
100g strawberries blended

(I bought a can since it's easier to measure)

.
Method

Melt the white chocolate and butter together.
With a small blender, blend the strawberries until you get a puree texture or you can mash them with a fork until fine. Set aside.

Normally, the cheese has to be at room temperature but it wasn't so I added the cheese to the chocolate and mix.
Fold in the oil/butter, whipped double cream and strawberry mix.

With a normal spoon, scoop about 2 spoons into each ramekins. Refrigerate.
  

Back to the top layer:
Carefully scoop out the New York cheesecake and place it on the top of each Ramekin bowl.
Refrigerate for at least 1 hour before adding the rest of the strawberry 'puree'.
Eat! NOM NOM NOM