My Second entry for the IronCupcake Earth competition:

Remember the batter that I tried using for my first set of entry? I ended up baking proper cupcakes from them! So yeah...I actually went through the process of roasting the apples, mashing them to get the puree and use them for my cupcake batter. And then with a little spice, I added bits of cinammon and ginger to the batter.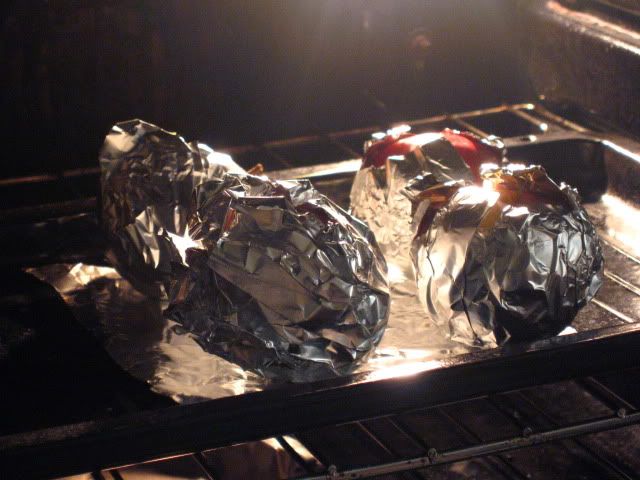 After baking them, I was thinking up of the next idea for these need-to-get-dressed cupcakes and it all started with the next morning while I was trying to figure out what to eat.
 

 

I had a small tub of plain yogurt needed finishing as I was actually planning to use it for another frosting and had forgotten about it. Seeing that I'm picky and can't run away from being a sweet tooth and being uberly health consious, I still don't prefer to have a plain yogurt (yuck, it feels like I'm eating something naked). So I looked into my little pantry and scouted for something sweet but not adding to the calories. I saw honey and marshmallows. Ah hah. Something alright to start the morning and dressing this yogurt enough so that I can finish eating it.
While eating it, something sparked up...why not use this as my icing?? woohoo!! I got super excited. And with that while I was having my morning walk after and the gradual thinking right up to the final bit of my idea...I came up with the name for them: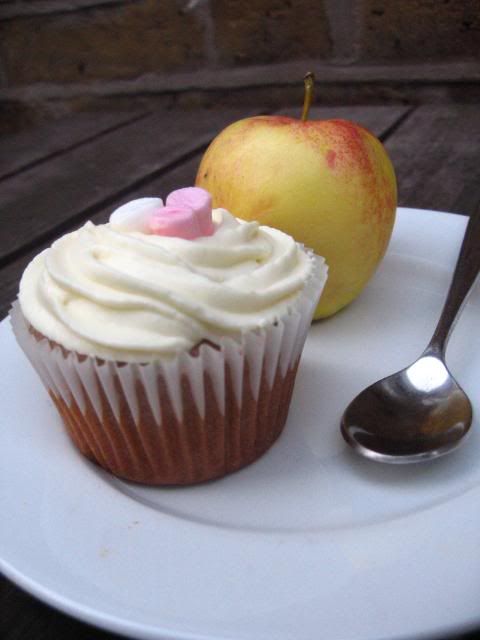 Cinnamon Apple Cupcakes with Honey Yogurt Frosting and a tinge of Marshmallows for it's sweetness and a subtle sinfulness.

I added abit of Mascarpone cheese to firm up the frosting so that it doesn't melt and with that I could reduce the amount of icing sugar to the frosting.

Taste wise? You bet, amazing...1 got eaten in 3 bites from my collegues at work (that really suprise me because I am always hesitant and nervous whenever I make something). Some of them thought it was cream cheese frosting on top ;). They think I should quit my job and open up a catering business (Aaaw, felt so touched with the compliments).

The actual amount of calories for each frosted cupcake is 250kcal (1/8 of your daily kcal guideline amount and yes, I actually sat down to caclulate each ingredient) and there are ways to reduce them even more by using a vegan substitute but for this competition, I shall place the exact recipe I used. As well as I dedicate this to those who are health conscious like me seeing that I came from an atheletic background and for those who wants something sweet but lighter for a change.

If you look at my
first entry
, I am hoping that this entry could earn some brownie points too as a bonus. The list of the awesome prizes are below, so please vote for me towards the end of the month (I shall remind you all again):
Here are the ingredients and method for making these
scrumptious
(I'm such a drama in emphasising) apple cupcakes
Apple Cupcakes
(Makes 6 muffin sized cupcakes)
With reference to
Mamajune
Ingredients

4 Sainsbury or Tesco Royal Gala apples
1 cup all-purpose flour
1/4 cup sugar
1/2 tsp ginger
1/2 tsp cinnamon
1/2 tsp baking soda

Pinch of nutmeg
Pinch of salt
1 large egg
1/4 cup oil
1 tbsp apple juice
1 tsp vanilla essence
Directions

Preheat oven to 350 degrees F (175 degrees C) and place rack in center of oven. Prepare a 6 cupcake tray with muffin liners. Set aside.

Rinse and core the apples. Place them on an ovenproof pan or baking sheet and bake for 30-40 minutes until soft. Remove the apples from the oven, let cool slightly, then remove peel and mush the apple with the back of a fork. Measure out half a cup of apple mush and set aside to cool.
Combine flour, sugar, ginger, cinnamon, nutmeg, baking soda and salt in a medium-sized bowl and whisk to combine. Crack the egg into a separate medium-sized bowl and beat with a fork to break up. Add the oil, apple juice, vanilla and cooled apple mush and mix to combine. Combine the wet and dry ingredients until all ingredients come together.
Scoop into cupcake papers evenly. Bake at 175 Deg C (350 degF) for 20-22 minutes, rotating the pan after 15 minutes, until a toothpick comes out clean.

Honey Yogurt Frosting with Marshmallows
(Makes 6 cupcakes including filling the core)
Ingredients

150g plain yogurt
2 tsp honey
125g mascarpone cheese
3 tsp icing sugar
A handful of mini marsmallows for decoration and filling

1/2 tsp vanilla essence

Method

Combine plain yogurt, mascarpone cheeese and honey until fully mixed.
Sift in the icing sugar and add vanilla essence.
Bore half a hole into the cupcakes and place one marshmallow at the bottom. This will act as a base so that the icing does not leak.
Add the frosting right up to the surface of the cupcake. Further frost the top of the cupcakes along with marshmallows with any sort of decorations you want =)