It was a friend's birthday do and after passing it so many times, this is the occassion that I could go in and try out Jun Tanaka's dishes at
the Pearl
. We had a 3 course meal and cocktail set for 37 pounds which is quite a nice deal. The bill came out to be abit more because water was charge at 7.90 each..so be warned! Then again we were given samples before our starters, pre-desserts and after dessert dessert that didn't come with the cost. I was quite full after the whole 2-hour session.
It was a great experience in the sense that it was my first time having fine cuisine food, therefore eating it was rather different (as in trying to piece all the different flavours through a stab of a fork)...and I am inspired to head to a farmer's market to expand my knowledge and taste buds on herbs, spices, sauces and vegetables!
I must say though that we were warmly welcomed and greeted, to the point that they asked about whether I want my cake to be brought out towards the end of the dinner session with no extra cost. I was brought to the waiting lounge which was very comfortable and ordered my cocktail.
When everyone came we were brought to our table where we were greeted by lovely pink plates with white roses with pink tips lit in the middle of the table.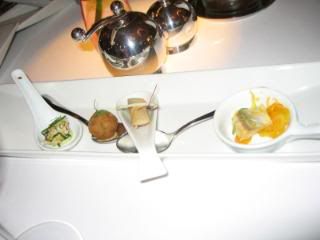 Pre-starters

We had 'samples' before our starters which was yummy. I couldn't catch the names of them but it consisted of fish, mushroom ball risotto and springrolled something. The thing about cuisine food is that they put at least 8 different ingredients into one small dish so it was really hard to keep up with the names.
Very colourful dish regardless

I was bit disappointed with the starter as it was supposedly venicen in which I saw more garnishes than the meat but then again, one may debate that it is a starter.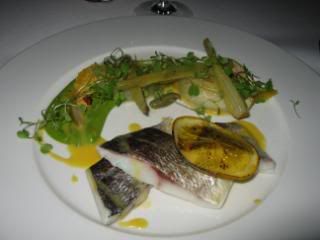 The mains were really good. Sea Bream fish with vegetable. I couldn't quite make what the vegetables were but it blended really well with the fish and the sauce was absolutely yummy. They even caramelised the slice of orange!
Friend's main that consists of steak

We had a pre-dessert drink that had sour meringue on top followed by a rasberry mix. And then dessert, which I found was the best but then again it's because I know what goes in more than the other dishes. Haha. My main theme for the dessert was Almond. It was absolutely delicious.
My dessert. Almond tart and icecream, topped up with almond anglais sauce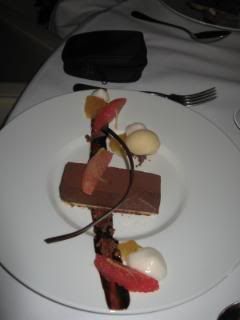 Friend's Chocolate dessert

We had tea after accompanied by home made dark chocolate, strawberry marshmallow, lychee jelly, and sesame cracker. I was so stuffed at the end.
Overall, I could rate this a 7.5 comparing it to price and food and I'm inspired to go to a farmers market or a food market that sells all sorts of veges and meat to expand my tastebuds =)
More information:
252 High Holborn
London, WC1V 7EN
020 7829 7000
www.pearl-restaurant.com