I actually have no idea what to call it to be honest but a whole portion of it was made of carrots and blueberries. Plus other sweet natural fruit and vege too.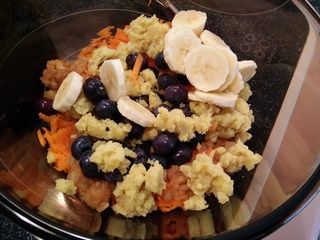 You can literally eat this raw without the eggs and flour lol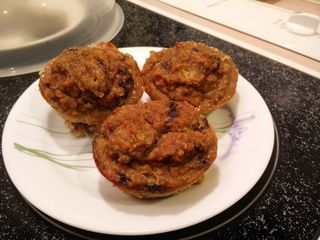 No baking powder, so I can literally pour extra over each tray!
It turned out so delicious my son loved it! Felt really strong in the coconut just coz I added a tad bit too much flour again. All good, it's so nutritious, gluten free and dairy to the point that I am happy to eat it, also moist too! yay.
Will see how I can remember how the ingredients were coz it was all estimated!
Makes 6 big muffins
Ingredients
2 medium carrots grated
1 apple stew (with cinnamon and some sugar)
1 medium sweet potato steamed
1/2 banana sliced
1 cup blueberries
1/4 -1/3 cup coconut flour
1/4 cup maple syrup
1/4 cup olive oil
1 tbsp vanilla essence
salt to taste
Method
In the oven, heat it up to 180degC.
Butter a 6 tin muffin tray.
Mash the bananas and sweet potatoes before combining everything into one bowl.
Add the flour at then end, this is ideally sieved to evenly spread the consistency.
Try to mix the ingredients so that the blueberries are all mashed too.
Evenly pour the batter into the tray. Batter can be pour beyond the depth of each 'cups' (i.e. pour the batter until it creates a 'dome' on top).
Bake for about 25 mins or until a toothpick comes out clean.