Never knew it tasted so good! I must have added a bunch of stuff to make up for the bitter after taste since it was my first time using real beetroot and getting my hands coloured..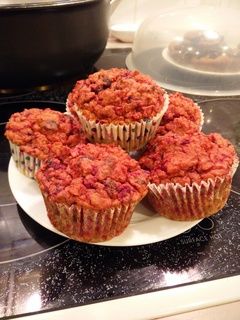 I didn't realised I was also using the same ingredients from this other
surprised carrot blueberry muffin
recipe too. I guess I do love that combo of sweet carrots and refreshing apples together with a tinge of sweet potato to fill one's tummy sweetly and gracefully.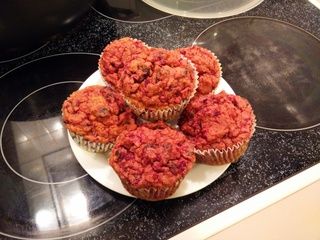 I pretty much dumped everything in and was relying on my vision to see how thick the texture is with the flour estimation. I did ran out of Gluten free flour so added a touch of coconut flour which was just right (can't taste it for a change).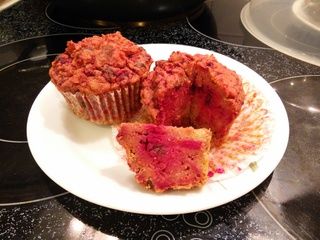 The strong taste is definitely the beetroot. But it's supported by the other goodness of natural sweet carrots, apples, raisins and sweet potato.
Makes 6 muffins
Ingredients
2 carrots (steamed)
1 apple (steamed)
1 medium sweet potato (steamed & mashed)
1 medium banana (mashed)
1/2 medium beetroot (grated)
1/2 cup raisins
4 eggs
1/4 gluten free flour
1/4 coconut flour
2 tbsp maple syrup
2 tbsp coconut oil
1 tbsp vanilla essence
salt
Method
Pre-heat oven 180degC.
Grease a 6-muffin tray with margarine.
In a food processor (first time using it!). Add all ingredients in except for flour, raisins and beetroot. Processed for 1 minute.
Fold in the flour, raisins and beetroot. (Flour doesn't need to be sieved).
Bake for 25-30 mins.
Leave it to cool. If freeze, try to use within the month. Can be refrigerated up to a week.