aka glutinous rice packet. One of our home's authentic Nonya kuih :). Something worth trying out as it's a lovely dessert fused mainly with our good ole screwpine leaves, palm sugar and coconut. These 3 makes the basis of our dessert.

Yes, pulut inti is suppose to be wrapped in banana leaves and not only uses glutinous rice, but another rice as well. This how it really looks like:


But I couldn't get banana leaves, nor the blue pea rice...so it's simpler and easier to make at times when needed: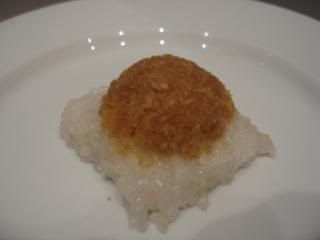 This recipe makes about 16-18, 3.5cm x 3.5cm pieces
Ingredients
To make the glutinous rice bit, click here for my previous post on '

kuih serimuka

' but use 300g of rice instead.
And to make the dessicated coconut with palm sugar, click here for my previous post on '

kuih dadar

'.
Method
After making both, place the rice on a place and with a flat spoon, shape it into a square and cut it into 9 pieces.
With a teaspoon, make a semi circular shape and slide the batter to the top of the rice.
Wrap it with gladwrap.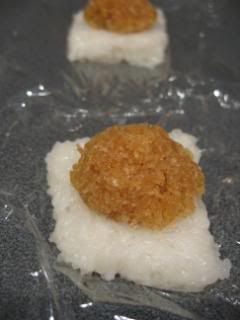 Now then...I made this much for no audience, if anyone of you aren't away over Easter, send me a text!