With training in the way, it took so long before I manage to post this up. But, it was soooooooo rewarding after making them!


As soon as you bite into this, you will definitely go all gooey inside. Literally. It was absolutely comforting ;).
Thanks to my fellow baker,
Baking Addict
, I was inspired to make them. It's pretty much chocolate ganache in a different form, which is quite interesting as the texture is soft this round, compared to the time I coated my cake with ganache. I find chocolate to be quite interesting and mysterious at the same time.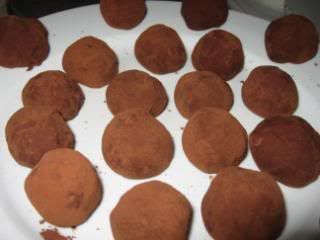 Coat me!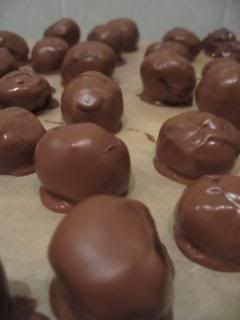 That's better ;)
She made the
oreo and cream cheese
version, but I decided to make the classic version with a tinge of Kirsch Cherry alcohol that I use for my
blackforest cake
and see which taste better. As well as I didn't use any oreos, heh. I made plain cream cheese and cocoa powder.
Shoulda put moree of zees cherri alcohol...
With a sweet tooth like me, I still love the classic truffle coated with white chocolate. An absolute bliss towards the end of a training session.
If you're keen to try oreos and cheese truffle, check out Baking Addict's
post
as that is definitely yummier than my plain cocoa and cheese truffle. Other than that, I shall post up the classic chocolate truffle for any of you who is keen to make this.
(other reference source:
joyofbaking's truffles
)
Makes about 20-22 balls the size of 2 tbsps combined.
Ingredients
235ml double cream
100g dark chocolate broken into bits
50g butter
Cocoa powder for coating
Alcohol (optional)
200g milk chocolate / white chocolate for coating
Method
Place the chopped chocolate in a medium sized stainless steel bowl. Set aside.
Heat the cream and butter in a small saucepan over medium heat. Bring to a boil. Immediately pour the boiling cream over the chocolate and allow to stand for 5 minutes.
Stir with a whisk until smooth. If desired, add the liqueur. Cover and place in the refrigerator until the truffle mixture is firm

(this will take several hours or overnight)

.
Place your coatings

(cocoa powder)

for the truffles in a bowl.
Remove the truffle mixture from the refrigerator.
With your hands, or else a melon baller or small spoon form the chocolate into round or mis-shaped bite-sized balls. Immediately roll the truffle in the coating and place on a parchment lined baking sheet or tray.

(I coat my hand with powder to avoid the chocolate from sticking to my hands)

Cover and place in the refrigerator until firm.
Truffles can be refrigerated for a couple of weeks or else frozen for a couple of months. Bring to room temperature before serving. Alternatively, see the steps below if you want to coat them in hard chocolate. They last longer too.
Melt either a bar of white chocolate or milk chocolate in a pot over a stove. Place the heat to low.
With 2 tsps, place the ball on one of teaspoon and start coating them with the other teaspoon. It's a 'juggling' type of method. Either that, you can use thongs but handle the truffles with gentle care as they are quite soft.
Place them on a parchment paper, so that it will be easier to remove them when they are fully harden.
After coating the balls, place them in the fridge for 5 minutes to allow the coat of chocolate to harden.
They then can be stored away at room temperature.