Heh, it's pretty much claypot chicken rice but not cooked in a claypot :). I can't believe how the ingredients involved in making this are so similar to the other 2 savoury dishes in my last post (lo mai kai and tea eggs) and by changing the amount or adding a slight herb or spice makes it a totally different dish that has a different taste. So amazing.


Just like how it relates to life doesn't it...and I have no idea why I said that :P
Anyhoo, double post in a row goes to show that I have no plans this Easter besides more training and thinking of what to make in the kitchen. There is a dessert that I am really tempted to try but then again, the weather has gone much brighter these days and so I have succumbed to fresh air instead,heh.
This is dish is very easy to make if you have a rice pot. It's also nourishing and healthy, and all you need is a vege dish to complete your well balanced meal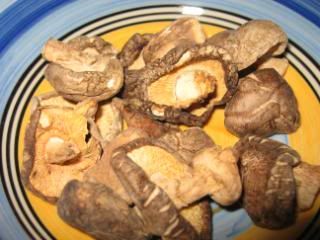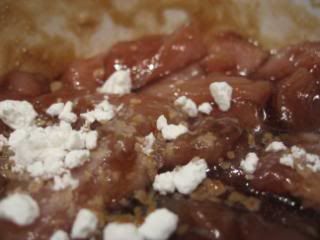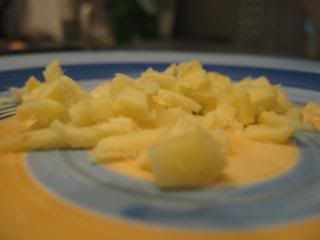 Makes a meal for 2-3 person
(Recipes were referred to
kuali's
and
rasamalaysia
claypot chicken rice as a reference)
Ingredients
200g chicken breast fillets cut into bite sizes
270g white rice
Ginger juice or chopped 2" ginger for meat seasoning into fine pieces
10g of Chinese mushrooms soaked at least 1 hour

<----- the start to making this dish

Chopped spring onions for dressing
Chinese sausage

(optional)

15g Salted fish

(I didn't add this but it makes the dish more authentic)
Meat seasoning
1 tbsp light soy sauce
1 tbsp oyster sauce
1 tbsp sesame oil
1 tbsp oil
1/2 tsp sugar
1/2 tsp cornstarch
1/4 white pepper
Rice Seasoning
1/4 tsp dark soy sauce
1 tsp sesame oil
1 tsp light soy sauce
salt and pepper to taste
Method
Cut the soaked mushrooms into bite size pieces.
Add the meat seasoning and ginger pieces to the chicken and mix well. Marinate for an hour in the fridge.
Rinse and clean the rice in a rice cooker as if you are making steamed rice after the chicken is marinated for an hour.
Add the rice seasoning and cooking oil into the rice and start cooking the rice.
At the same time, heat up a wok with some cooking oil. Add in the chicken and mushrooms.
Quickly stir-fry the chicken until half-cooked. Dish out and set aside.
Deep fry the salted fish and set aside.

(if you're using this)

Add the chicken into the rice cooker when the rice is almost dry

(about 7-8 minutes)

and continue to cook till rice is completely cooked.
Leave the rice cooker on "Stay Warm" for 15 – 20 mintues before serving.
Top the chicken rice with fried salted fish and serve immediately.