As well as during the Xmas do that I had, I also baked a cheesecake as the birthday boy wanted a cake before he goes on holiday. I woke up early in the morning regardless of a late night at a hens do because I know that it is a special birthday worth making and he is such an absolute great friend. He's been so supportive from the moment I touch down London. This I dedicate to you ;). Happy happy birthday.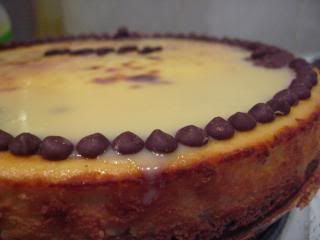 Suprisingly while making this, it was actually quite simple like a non-bake cheesecake. The main difference is that bake cheesecake uses eggs, and so it needs to be cooked before eating. Other than that, everything else is pretty much the same.
Makes one 9" cake

For the base
Ingredients
15 digestive biscuits (one biscuit weighs 15g)
80g melted butter/ oil
Method

Heat the oven to 180degC/fan 160degC/gas 4.
Crush the biscuits in a food processor (or put in a plastic bag and bash with a rolling pin).
Mix with the butter.
Lined the base of a 9" round springform tin with baking paper. This allows it to be easier when taking the cake out of the cake tin.

Press the biscuits into a 9" (22cm) springform tin and bake for 5 minutes, then cool.
 

For the top
Ingredients

4 eggs lightly beaten
600g cream cheese
200g castor sugar
2 pears, chopped
50g white chocolate
1 cup milk
Chocolate chips for decoration
Method

Chop the pears into bite size pieces and place them on top of the first layer.
Beat the cream cheese with the sugar, a few drops of vanilla, eggs until light and fluffy.
Pour into the tin.
Bake for 40 minutes and then check, it should be set but slightly wobbly in the centre.
Leave in the tin to cool.
The white chocolate and milk was used as a ganache to apply a nice white background on the cake for my birthday decoration :). I pretty much melt the white chocolate in the microwave and mix it with the milk to get a liquid consistency that I want.