Instant, quick and easy as I didn't have time to make some ingredients from scratch. But hey, it does the works ;). I am also quite picky when it comes to grabbing instant ready made ingredients too and you can vary the amount if you want if you crave for it.

T'was for a Christmas lunch into dinner do when there was abundant of food! And I mean 3 whole chicken, lamb and beef, bread pudding, roast veges, sausage wrapped with bacon...it was endless.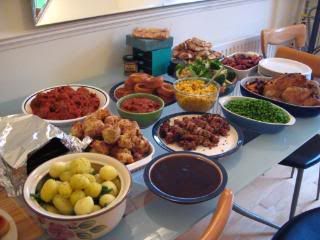 First round....out of 5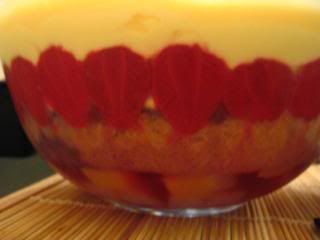 My trifle hiding at the left corner

There are various types of trifle but they are made out of the same principal layers. I had a quick read on joyofbaking.com about what
trifles
are (the website explains it very well), and then pretty much pick the things I like. Yes, layers when combine must compliment each other (like you don't really want to add tiramisu flavour to tropical cocktail fruits). Lastly, it's best done the night before serving so that the layers infuses with each other :).
To be made one night before or at least 24 hours before serving.
Ingredients
500g custard (

I love the brand Ambrosia

)
250g marscapone cheese

250g or 2 pots of strawberry flavoured jelly (

Brand: Hartleys

)

3/4 can of tropical fruits made of pears, peaches, cherries and pineapples
1 can of strawberries
7" sponge cake (

I used Golden Bake Flan base from Sainsburys and it fits perfectly

)
3 tsp Kirsch cherry alcohol
2 tbsp cold water
Method
In a large Pyrex bowl (2 Litre capacity). Drain the tropical fruits with a seive and place it at the bottom of the bowl.
In a separate bowl, break the jelly into smaller pieces and add to the tropical fruits. Mix until fully incorporated.
Place the sponge cake and press firmly to release the air. Mix the alcohol and water together and sprinkle over the sponge cake.
Place the strawberries around the bowl. It is also optional to top up with another thin layer of jelly
In a separate bowl, whisk the custard and mascarpone cheese together until smooth. Pour this mixture into the middle of the bowl and with a spatula, spread the mix out to the sides.
Optional to serve with whip cream.