Another post! This is also what I am preparing for the fund raise from my previous post :)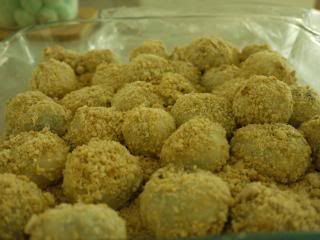 This time, I manage to cut time down by making the balls at room temperature. Glutinous rice works in such an interesting way and I am not surprise that they work well in Asia or any other tropical countries. And apparently, if I mix Tapioca flour to it, it probably can increase the shelf life of these desserts as they don't harden to quick (
yes, sticky rice ball can only be left out for 2 days before they turn hard and they can't be refrigerated
)
But again, I seemed to still have air in them and they break after I boil them ><. Nyway, I think I would still prefer Lo Mai Chi (aka peanut filling) to this as I do find the sesame seeds a tad abit bitter. It doesn't really look as great (
I think I made alien balls this round
) but I do hope people will at least buy 1 to try...
(
Thanks to
Chow Time's
and
Thai Food About.com's
helpful posts
)
Makes approximately 35 balls
Ingredients
For the filling
125g black sesame seeds
125g icing sugar
100ml water
For the dough
300g glutinous rice flour
250ml water
2 tsp salt
1 tbsp sugar
For coating
200g roasted peanuts
1 tbsp icing sugar
2 tsp caster sugar
Method
For the filling
Grind the black sesame seeds into powder form
Mix with the icing sugar and add water
Stir until it forms into a paste texture
Refrigerate for 2 hours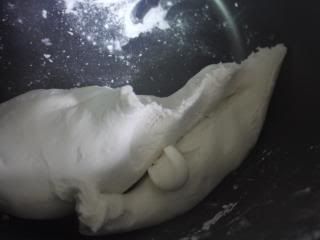 For the dough
In a bowl mix all the dry ingredients together.
Add water and create a 30g ball.
In a large pot, fill it to half way and bring the water to a boil.

(this pot will be used later in the process)

Place the ball into the pot and let it cook until it floats.
Combine the cook dough back into the rest of the ingredients and kneed until it forms like a 'play dough' plasticine

(It is ready when the dough stops sticking on your hands)
For the outer coat
Grind the peanuts until powder form. Alternatively you can use a mortar and pastel to do the job :)
On a large flat dish plate, combine the sugars and peanuts together.
 

Assembling
Make small balls of about 15g each or the size of 1 tbsp.
Press it on the palm of your hand.
Form a cup, thinly pressing the tips and making sure that the base is thick

(This shape avoids any cracks in case you over fill)

.
Place 1 tsp of sesame paste into the cup and seal, re-rolling into a ball again.
Bring the same pot water to boil and place the rolled balls. Cook it until they float.

(I would advice to place the number of balls to the surface size of the pot.This way you can keep track on them when they float)

.
Remove the balls with a slotted spoon and briefly shower them with cold water

(for about 10 seconds)

Roll the balls into the plate filled with crushed peanuts.
Allow to cool before storing / eating.