Righty ho, KV is without an oven so what does she do? She attempts to make a steamed cake! And not only that, she doesn't even have a cake mould, so she has gone to use a bundt instead =P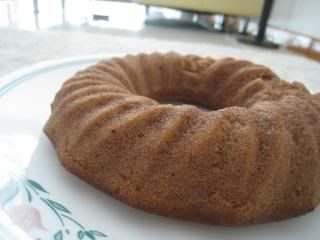 Yuuuummm, Milo aka Chocolate cake
And the verdict? It was
sooooooooooo moist
!! And it is rather healthy in a way too!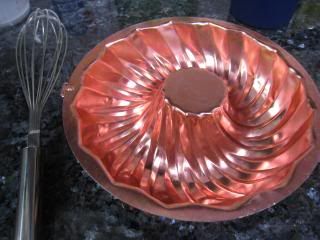 Trusty Bundt cake mould left by the landlord...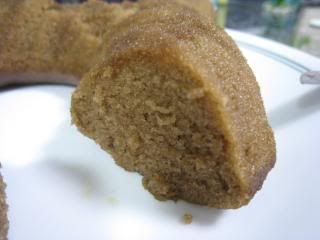 I was abit anxious in terms of whether the cake will rise, whether it'll get moist with steaming, whether or not it'll turn out as a paste, etc etc but it actually turned out better than I thought :) . Some say that theirs didn't rose and they had to add
fizzy drinks
to it. Others add
evaporated milk
, in which it does make sense, as you would want to have the sugar already dissolved and ready in liquid form if not it'll form a 'dense' base. But I used milk and icing sugar instead, as I know I won't be able to use up a can of evaporated milk. And one other used
rice flour
, which was rather interesting but it didn't rise unfortunately.
Hehe, and you think I'm
crazy
from coming up with these reasons even before attempting... :P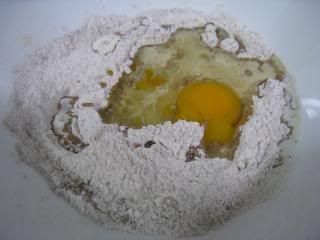 Anyway, after much reading blogs after blogs, I've come up with a simple ingredient that requires the least amount of effort to make...it literally took me 10 minutes to come up with the batter because it's an
all-in-1 bowl mix
. And to add an 'extra' taste, coat the cake with a
layer of honey
.
(
Courtesy of
Cake on the Brain's chocolate cake recipe
)
Makes a 7" cake
Ingredients
65g all purpose flour
50g icing sugar
35g milo powder / cocoa powder
1/4 tsp baking powder
1/4 tsp baking soda
1 egg
60g or 60ml sunflower oil
100ml milk
  

Method
Oil the bundt tray or lined a 7" cake mould
In a bowl, add all the dry ingredients together.

(flour, sugar, cocoa powder, baking powder and baking soda)

Sift them into the mixing bowl.

(this is to avoid 'clumps' of flour or sugar in the cake)

Heat up the steamer. Place rack over water.
Add the wet ingredients and mix thoroughly until it forms a nice runny batter.

(steamer should be already warm enough)

Pour the batter into the prepared pan and place into the steamer on the rack. Cover the top of the pan loosely with a piece of aluminum foil. Cover with wok lid.
Steam over medium heat for 30 minutes.

(Check water level occasionally to ensure the wok doesn't dry up)

Check for doneness by inserting a skewer into the cake. If it comes out clean, it's done. If not, steam for a further 5 minutes.

(I didn't have problems with this)

Leave it out to cool before taking it out from the mould.
Option to coat the cake with honey for 'extra' taste :)