Heh, not orange for a change. The colour is base on the colour of sweet potato and purple ones are abundant. And the inside isn't yellow but maroon on the inside instead as we used red bean paste.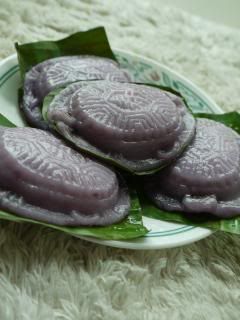 Thanks to my
wonderful sis
, we manage to get this done quick and so well that we are so happy with the results!! Hehe, one of my flatmates was teasing that we were both doing a 'masak-masak' session which meant 'cook-cook' and it's related to the little girls playing with doll houses.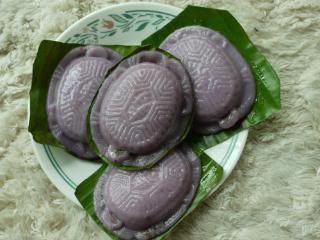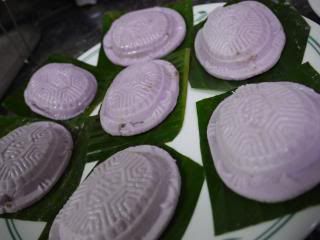 So helpful to have someone, specially when it comes to taking photos :).
   

Makes about 16 Kuehs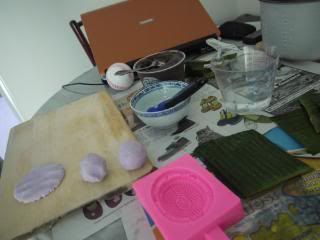 (
Courtesy from
My Asia Kitchen
and
Nasi Lemak Lover's
recipes
)
Ingredients
About 200g of red bean paste

(I made alot because I loooooveee red bean paste on anything!)

150g sweet potato mashed
375g of sifted glutinous rice flour
300ml of water
50g sugar
3 tbsp oil
16 banana leaves

(8cm x 8cm)
Method
Steam sweet potato till cooked.Mash well while it's still hot,set aside in a large bowl.

Combine 40 g of glutinous rice flour with 30 ml of water ,knead into dough.Add the dough into boiling water and cook until it's floats,dish out and set aside to cool abit.

(This helps in combining the rest of the dough easily, quite important step)

.

Mix the remaining portion of flour with sugar and 270ml water,mashed sweet potato,oil and the cooked dough. Knead all ingredients until it forms a plasticine dough.

Flat each ball shape dough in round shape on your palm, each weighing about 50g.

Scoop 1 tsp red bean paste on the center of the dough.

Pinch the tip of the dough and wrap the filling and roll into a ball again.

Dust the mould with some glutinous rice flour.

(I used oil first and then flour after)

Press the filling ball of kueh into the mould,then knock it out.

In a bowl, place 1 tsp of oil and 1 tbsp of water. This is used as a coat. Brush oil on a banana leaf before placing the kueh on it.

Further brushed the top of the kueh with a layer of oil mix.

In a large pot, fill with water and bring it to boil. Bring heat down to medium.

Placed ang ku kueh in the steamer rack about 2 inch each apart.

Steam the kueh for 7 minutes total time at medium heat, but open the lid every 2 mins to let the steam out. This is to avoid the kueh from 'melting' too fast.

Brush the kueh with a layer of oil again.

Best served at room temperature. Can be refrigerated but needs to be steamed again when taken out.