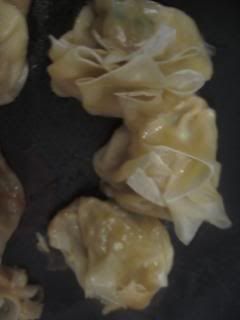 First attempt! Looks like plain soupy wonton to me =(
Couple of mistakes to learn from:
Buy RounD wonton wraps, not square!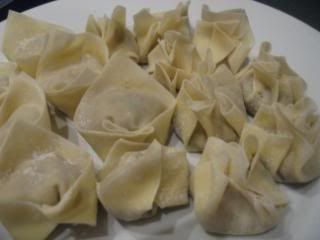 Had to come up with an alternative 'shape(s)'.Tortellini and Rustic styleeee
Over filled the frying pan with too much water :S
Turned the wrong side of the stove on....what a start
Yes, it kinda turned out seriously
tasty
, as the flavours were all there but the texture wasn't there as yet. I shall try it again as I bought myself enough pork to practice on...
Makes 15 gyozas
Ingredients
100g mince pork
1 spring onion strip cut to fine pieces
2 garlic bulbs cut to fine pieces
1 tbsp minced / finely chopped ginger
1/2 cup of finely chopped cabbage (I substitute this with lettuce instead since there wasn't any in the pantry)
1/2 tbsp soy sauce
1 tsp oyster sauce
1/2 tsp sesame oil
1/4 tsp of salt
White pepper for seasoning
15 wonton wraps
 


Method
In a large bowl, mix all of the ingredients above thoroughly. (

I used a little mincing machine to help me cut all my vegetables together before mixing it with the pork

).
See here to wrap the pork mixture.(I used square wraps, so I used the tortellini method and the I-can't-be-bothered rustic method, where I dump 1 tsp of pork mixture into the middle of the wrap and combined all corners together =P. The main aim was to get a nice base so that I get a crispier base when I fry them but I wasn't sure whether they would open halfway, that's why I did half and half.

)

Place a non-stick pan or wok at high heat.
Add a tablespoon of sesame or vegetable oil to the pan, and fry half the batch (10) for 1-2 minutes, until the underside is golden.
Carefully add water until it reaches half the height of the gyozas and cover (my biggest mistake).
Cook for 5-6 minutes, or until the water's absorbed.
Remove the dumplings from the pan and keep warm, while you cook the remaining batch.

Optional:

Mix soy sauce and vinegar as the side sauce.