And what do you do when you gave too many blueberries? Bake something! The bonus was the suggestion not just making blueberry muffins but the added cheese to the idea makes it all colourful.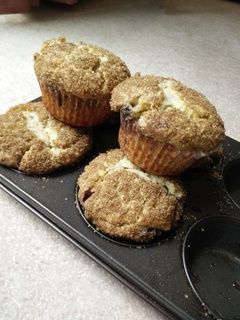 The recipe was initially for 12 muffins so I halved most except the 'icing' where I sprinkled a tad too much sugar at the top.
Makes up for the lack of sugar in the ingredients.
Was initially nervous with the amount of flour too. Got all starchy when I scoop them into the mould
Turned out it was loved!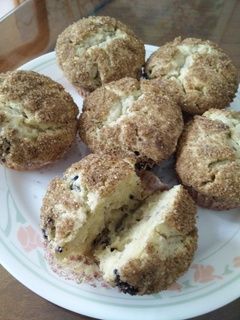 Makes 6 muffins.
Ingredients
1½ cups flour
½ cup sugar
2 teaspoons baking powder
Pinch of salt
125g cream cheese, room temperature
Zest of ½ lemon or oinch of the juice
1 egg
½ cup whole milk
1 teaspoon vanilla extract
75g butter, melted and cooled
½ cup fresh blueberries
½ cup brown sugar
Quarter tsp cinnamon
Method
Preheat oven to 200 degC.
Place a muffin liner inside each opening of a large muffin pan.
In the bowl of a stand mixer, beat the room temperature cream cheese and lemon zest until light and creamy. Add eggs and beat until smooth. Add sugar, milk, vanilla and melted butter and mix thoroughly.
Sift in flour, baking powder and salt into a large mixing bowl and mix.
Gently fold in the blueberries until evenly mixed in the batter.
Using an ice cream scoop or two spoons, spoon the batter evenly into the 6 prepared muffin cups.
In a small bowl, combine the brown sugar and cinnamon.
The sprinkle the tops generously with the sugar-cinnamon mixture.
Bake for 20-25 minutes or until the muffins are firm and just beginning to brown.