We had leftover cream and sprite (plus lemon juice in the freezer too) so coincidentally my brother in law made scones and told me the ingredients. It uses all of the above so scones was a good idea to use up the ingredients!


Looks good, probably needed to change the cookie cutter to one size smaller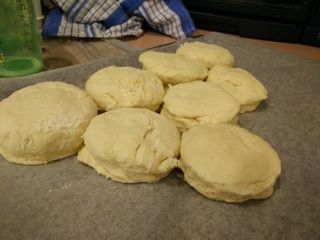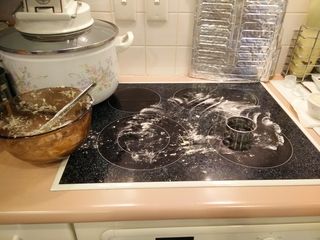 but...I made a
HUGE
mistake.
We didn't have self raising flour so I thought of making my own base on
this reference
Confidently following this, and baking it so well...turns out I made such a BIG mistake that costed the flavour to go bad.
I had 3 tsp of baking soda NOT baking powder
. SIGH~~!
-.-
I feel like discarding it and doing it again just coz it was one ingredient that made the whole scone taste horrible.
Anyway, the ingredients and mixing is really easy. In fact one of the fastest baking I've ever done so far. If you're interested, feel free to check it out.
Thanks
Bridget
for the tips of making them look so good.
And to advance to making the better scones, check out the
Best Scones in the Universe
Makes 8 big scones or 12, depending on the size of your cookie cutter (either 2.5" or 3" dia)
Ingredients
3 cups of self-raising flour
1 teaspoon of sea salt flakes
1 cup of lemonade (I use sprite and lemon juice)
1 cup of cream
Method
Pre heat the oven on fan bake at 220C with the shelf in the upper part of the oven. Pre heat the roasting tray that you intend to bake the scones on as well.
Into a large bowl place the flour and salt and mix to combine.
Into a measuring jug combine the cream and lemonade.
Make a well in the middle of the flour and pour in the liquid. Using a bread knife, mix lightly, cutting through the flour until a crumbly dough is formed. This step should take no longer then 30 seconds of gentle mixing.
Turn the dough out on a floured surface and gentle form the dough into a round disc. Using a rolling-pin (

or hands

), lightly roll the dough until it is 2.5 to 3 cm in thickness.
Once your happy with the thickness, dust a heavy round cutter and tap out the scone rounds sharply, bringing the cutter straight down into the dough and removing by pulling straight up without twisting.

(Twisting will cause the dough to rise unevenly)

.
Bake in the oven for 12-15 minutes until golden and well risen. Remove from the oven and allow to sit for couple of minutes in the tin before removing to a wire rack.
Extra: Lightly brush the surface of the scones with the beaten egg yolk mixed with a teaspoon of cream. This will give the scones a beautifully glazed top.