Everybody knows that I am not the best when it comes to cooking (I have no idea why it is much easier process) but I have been wanting to make chicken chop ever since I was in Singapore planning to come back here.

So here is my first attempt!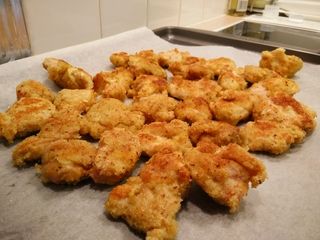 Not bad eh?
I pretty much saw this on tv and went (ooooh, I wanna make that!) coz all these while the chicken I bake doesn't give a nice crisp as well as I don't need to deep fry this recipe (yay).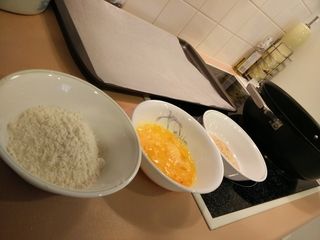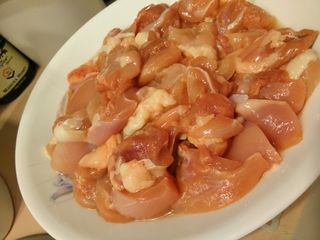 Recipe from
allrecipes asia
website or if you want to follow how I did it, check further but this time I didn't use much measurements, so the below are just estimates :)
Ingredients
500g of chicken cut into small pieces of your liking
1/2-1 cup breadcrumbs
1/2-1 cup flour
1-2 eggs beaten
salt and pepper
Method
Pre-heat the oven to 220degC. Line a flat baking tray with baking paper or a small layer of grease.
In a bowl, marinate the chicken pieces with salt and pepper
Heat up a pan with minimum amount of oil
Line 3 separate bowls up in this sequence - flour, egg, breadcrumbs
Grab one piece, cover with flour, then egg, then breadcrumbs before pan frying (must be high heat). About 1min per piece.
Fry until the outer coat is brown and crisp.

(we cook the outside first)

Arrange them evenly on the baking tray, bake for 10 mins or less

(this cooks the inside)
If unsure, cut the pieces in half to check if it's cooked. My pieces are small so they cook faster.