My second request but first cake made in Singapore!!
So I had a request from work and thought I'd give it a try and use fondant for the first time. It literally took 3 weekends of prep since I had minimal tools to work on. A small oven that only bakes one 8" cake at a time was challenging since I had to think the logistics side of things.
One weekend I tried playing with fondant to see how it behaves as I am aware that they can melt if the humidity is too much. I realised that the birds were shaped round and were all flat by the time they dry. As well as it took quite some time to get the right colour too.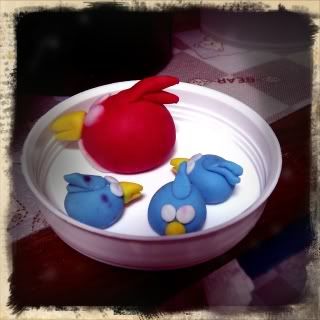 Flaaattt botttoomm
My brain started to boil with ideas I wanted to do and the moment I heard the number of people who will be eating the cakes I too was keen to make the cupcakes!
So the following weekend I made the models and the topping for the cupcakes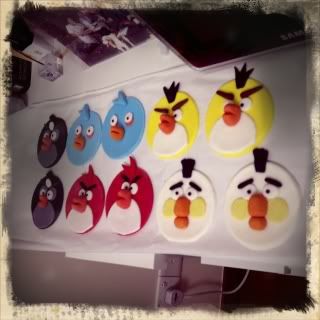 Had to keep them in my bedroom to keep it dry and cool. Unfortunately the cupcake toppings were still 'wet' when I took them out a week later. I should have just left them out to dry..
Following weekend - baked the cakes the night before (I forgot sugar in one!! Argh) but it took quite some time seeing that my oven can take one cake at a time. I planned to make 2 layers of 8" cake and 12 cupcakes. I saved more time by shaping the cakes the night before too.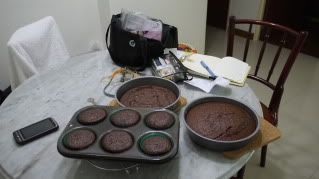 And finally on Sunday, spend 8 hours decorating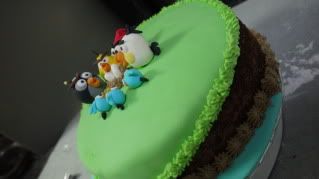 Getting there...had to redo this as I dusted the sides with chocolate powder and it all smudged when I transfered the cake, boo!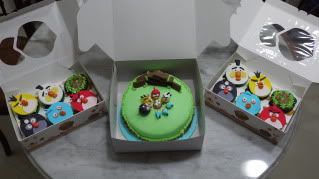 Ready to go!
Anyhoo, she was happy, though I wished her son's birthday didn't fall on a Wednesday as fondants are hard to keep if you don't have a dry space. So yeah, it kinda melted and the fondant was so sweet that it made up for one of the cake base that didn' have sugar in it =P
Makes an 8" cake (Courtesy from joyofbaking.com's recipe)
Ingredients (no eggs!)
1 1/2 cup flour
1 cup sugar
1/4 cup cocoa
1/3 (75g) cup butter
1 cup (240ml) warm water
1 tbsp lemon juice / vinegar
1 tsp vanilla essence
1 ts[ baking powder
1/4 tsp baking soda
Note: To make 6 cupcakes, take 3/4 of each ingredients
Method
Sift and mix the dry ingredients together and the wet ingredients in a separate bowl
Combine them and thoroughly mix it
Preheat oven to 175 degC and lightly grease an 8" cake
Bake until cake springs back lightly when pressed and a toothpick inserted comes out clean.
This post shall be slightly different since there is more focused on decorating then the actual baking. Here is the real story of how I went about the cake process