Baking has become 'cooking' for me in the sense that these days I don't bother with measuring cups or spoons haha. I've become those chef on tv where they just sprinkle using their fingers over the ingredients.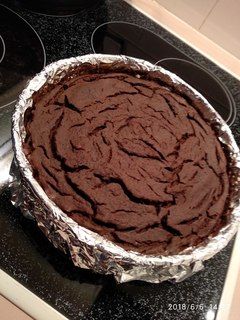 But I do must record it so that I remember and know what I did for sure and of course to share it with the others :)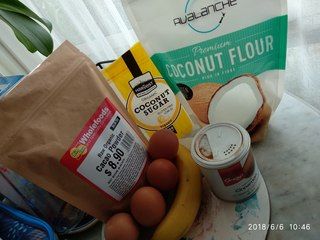 So here it my latest 'creation' I used pinterest to try my luck to find the right recipe but alas it doesn't really work with me. If you're interested to try check out the method and ingredients.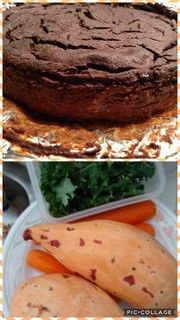 Ingredients
2 large kumara / sweet potatoes (probably half a kilo, the more the merrier)
3 carrots
kale leaves (just to give my son more for his vege)
1 large banana
1 cup coconut milk
1 cup coconut sugar
1 cup cacao powder
1/2 cup coconut flour
3 tbsp olive oil
1 tbsp cinammon
1 tbsp salt
4 or 5 eggs
Method
Peel and steam sweet potato and carrots until really really soft the day before so that they cool down before placing it into food processor.
Pre-heat oven to 180degC. Lined a 9" round cake tin (square would be better for cutting pieces).
In a food processor, blend all the veges and bananas until smooth.
Add the wet stuff (olive oil, coconut milk and eggs).
Add the dry stuff (cacao powder, salt, coconut sugar and coconut flour).
Give it a long good whizz until smooth.
Bake in the oven for 45-60 minutes or until the toothpick inserted comes out clean.