But there is no cheese~!


My first ever virgin gluten and dairy free cheesecake. Tastes pretty good but I think the lemon does hide alot of the bigger flavours...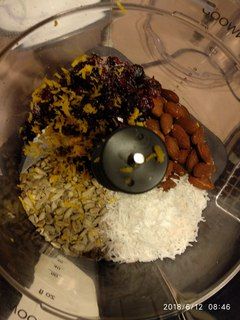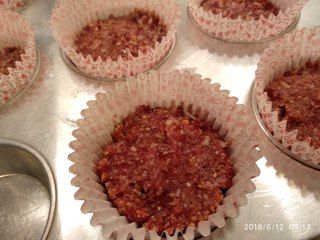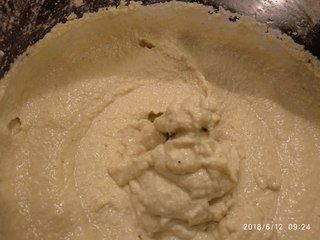 The only thing different I did was to use cranberries instead of dates for the base so it looks abit more redder than usual.
Tastes pretty amazing but there is a strong coconut flavour in general. I was trying to get my kid to try it but it's not his thing. Either that I gave it to him when he is too full. Oh well, it's for me to have heh.
Courtesy from
Chloe Moir Nutrition
. I love her website.
Makes 7-8 mini cheesecakes
Ingredients
Base:
1/2 cup almonds
1/2 cup sunflower seeds
1/2 cup desiccated coconut
1/4 tsp sea salt
1/2 cup dates
2 Tbsp coconut oil
1/2 tsp vanilla extract
Juice of 1 lemon
Zest of 1 lemon
Lemon Cheesecake topping:
1/2 cup cashew nuts (soaked in water overnight and drained)
1/3 cup coconut oil
1/4 cup maple syrup (or use your preferred natural sweetener)
1/4 cup water
1/2 cup lemon juice (about 2 1/2 large lemons)
1/2 tsp vanilla extract
Method
First make the base by blending together all the ingredients in a food processor or high powered blender.
Line a muffin tray with muffin cases.
Add a large tablespoon sized amount of base into each muffin case and press it down. Set aside while you make the cheesecake topping.
Place all cheesecake ingredients into the same food processor or blender. Blend until smooth. How smooth you get your mixture depends on how powerful your blender/processor is.
Pour the cheesecake mixture over the bases, top with lemon slices (optional) and leave to set in the freezer for 2 hours or fridge for 4 hours.
Store the cheesecakes in the fridge once they have set.