Just because it tastes like one to me! Although I have another leg lamb piece, steamed kale and brussel sprouts added not to mention sweet potato and carrots that was baked with the lamb.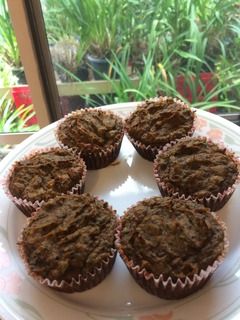 Mmmm
All because my kiddo can't bite at the moment and muffins are the easiest for grabbing and poking and ensuring he gets good food in him.
 


 




Yes, ALL the stuff I'm cooking is now organic....and I'm glad he is the only one taking it coz it really bites on the price.
Follow this recipe to bake the lamb shanks. I just add the sweet potato and carrots at the bottom and sprinkled olive oil and salt for flavour before placing the lamb shanks on top.
All the top dishes dissaminated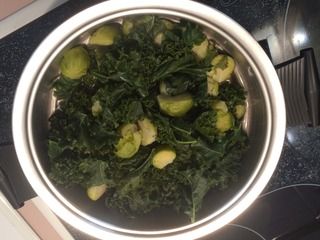 No, this is the VITAL ingredient for him. GREENS~~
Makes about 15 large muffins
Ingredients
About 1kg of lamb roasted (can be from leg or shanks)
One large Kumara / sweet potato roasted with the lamb
2 large carrots roasted with lamb
20 brussel sprouts steamed
Bag of kale leaves steamed
5 eggs
1-2 tbsp gluten free flour
1/4 cup almond milk
Method
Pre heat oven to 180degC. Lined up muffin tray with cupcake liners.
Using a large blade and a food processor, blend all the veggies (sweet potato, carrot and brussel sprouts) together first.
Pre cut the lamb into smaller pieces before adding them into the food processor.
Add the eggs and milk.
Scatter flour and keep processing until all incorporated.
Bake for 25 mins
Keep refrigerated up to a week or freeze it and it'll last for 3 months.