And so there were a huge amount of Feijoas given to us from many friends. There was toss between feijoa jam or muffin. I suggested jam so that it lasts.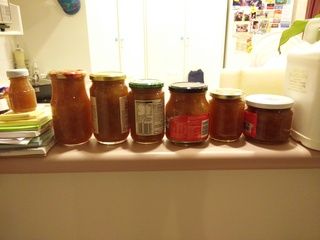 For about 2 kgs worth, look at how much jam we could make.
I had to be cautious when I peeled them out as some had worms (one of those, sigh)
Feijoas~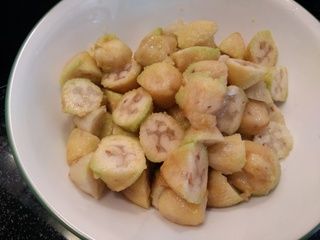 The inside of Feijoas
My MIL suggested adding apples so that it encourages 'pectin' so that it sets more too.
Mom's tree
I used
this blog
as reference, but the other things added were suggested by MIL
Ingredients
2kg feijoas (with 4 apples)
1/2 cup water
1.5 lemon
1/4 cup of ginger
6 cups of white sugar
Method
Bring feijoas, ginger and apples to boil with lemon and water
Simmer when sugar goes in
Stir for 2-3 hours until consistency thickens