Been wanting to do this since I ever tasted the wonderful carrot cake from Suntec city near Giant after my gym session. Somehow they got the portion of walnuts, raisins and carrots so right!!! But I added pineapple into mine for 'flavour' and moisture. Turns out just as good ;). I was worried that it may be bitter coz of the walnuts but somehow it was ok when the cream adds in.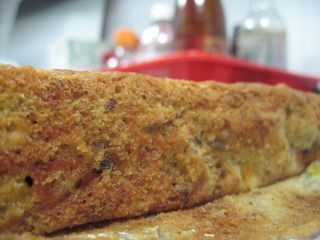 Well, mine turned out slightly abit more dense and moist than theirs since I used oil as opposed to creaming the butter with sugar slowly and dribbling the egg in which will take more time.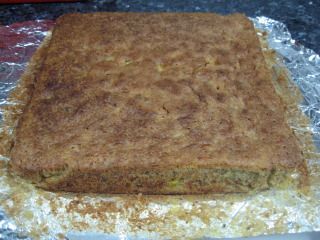 The cream cheese topping was spot on.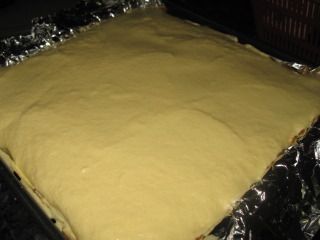 Half the cake gone :). Super happy Weeeee~~
Recipe courtesy from joyofbaking.com. Check out the original post as it's got a video clip too!
Ingredients
1 cup (100 grams) pecans or walnuts
3/4 pound (340 grams) raw carrots (about 2 1/2 cups finely grated)
1/2 cup crushed pineapples half wet
2 cups (260 grams) all-purpose flour
1 teaspoon baking soda
1 1/2 teaspoons baking powder
1/2 teaspoon salt
4 large eggs
1 1/2 cups (300 grams) granulated white sugar
1 cup (240 ml) safflower, vegetable or canola oil (or other flavorless oil)
2 teaspoons pure vanilla extract
Cream Cheese Frosting: 1/4 cup (57 grams) unsalted butter, room temperature 8 ounces (227 grams) cream cheese, room temperature
Method
Carrot Cake: Preheat oven to 350 degrees F (180 degrees C) and place rack in center of oven. Butter or spray two - 9 x 2 inch (23 x 5 cm) cake pans and line the bottoms of the pans with a circle of parchment paper.
Toast the pecans or walnuts for about 8 minutes or until lightly browned and fragrant.

(I didn't really do this since I bought a packet which was edible)

Let cool and then chop coarsely.

(I used my roller and crunch the walnuts in a bag, quick and easy)

Peel and finely grate the carrots.
In a separate bowl whisk together the flour, baking soda, baking powder and salt.
In bowl of electric mixer (or with a hand mixer), beat the eggs until frothy (about 1 minute). Gradually add the sugar and beat until the batter is thick and light colored (about 3 - 4 minutes). Add the oil in a steady stream and then beat in the vanilla extract. Add the flour mixture and beat just until incorporated.
With a large rubber spatula fold in the grated carrots, pineapple and chopped nuts.
Evenly divide the batter between the two prepared pans and bake 25 to 30 minutes or until a toothpick inserted in the center comes out clean. Remove from oven and let cool on a wire rack. After about 5 -10 minutes invert the cakes onto the wire rack, remove the pans and parchment paper, and then cool completely before frosting.
To assemble: place one cake layer onto your serving plate. Spread with about half the frosting.
Gently place the other cake onto the frosting and spread the rest of the frosting over the top of the cake.
If desired, garnish with toasted nuts on the top of the cake.
Cover and refrigerate any leftovers. Serves 10 - 12.
Cream Cheese Frosting: In bowl of electric mixer (or with a hand mixer), beat the cream cheese and butter, on low speed, just until blended with no lumps. Gradually add the sifted powdered sugar and beat, on low speed, until fully incorporated and smooth. Beat in the vanilla extract, and lemon zest.