Hokai, this was my first time making them and I so can't be bothered with the shape etc etc but I do bother with the filling!!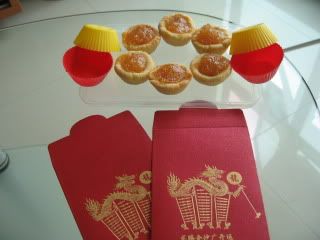 Soooo....
I literally made TarTs...in cupcake trays so that it holds more filling!!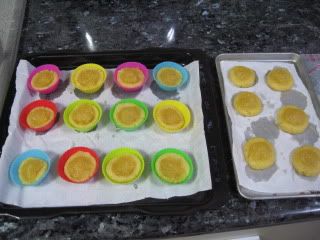 Ok so I didn't have enough mini muffin trays...I made normal cookies instead =P
I tried to make a ball shape but the batter was a bit crumbly (
it does boil down to the butter used
) and the crust was abit harder than normal (
better off for large base tarts
) so the next time I make it I'm gona see if semi soft butter and icing sugar will help soften the base abit =)
What inspired this crazy spontaneous move? Leftover batter from my
previous post
! I realise that I won't have many eating tarts so thought I'd make cookies and distribute it around instead (
Well, I gave everything to my sister haha
). She loved the pineapple bit since it doesn't stick in between the teeth (
I didn't cook it too long
).
 

Before....and after say half an hour at medium flame
Anyway, it's Chinese New Year, so it's not worth the festival without attempting to try and make cny cookies! And to those of you out there, wishing you a great prosperous and wonderful new year to come. May the water dragon brings us joy in what we do!
Gong Xi Fa Chai
!
Courtesy of
Nonyafood & Recipes
and
Rasa Malaysia's
posts)
Makes about 18 tarts
For the pineapple filling
Ingredients
1 can of pineapple (net weight 300g)
5 tbsp sugar
1 tsp flour or cornstarch
Drain the pineapple slices and then squeeze the extra water/juice with your hands.
Blend the canned pineapples until it's mushy, about 10 seconds.
Using medium heat, cook the pineapple and sugar until most liquid has evaporated, and the filling turned golden. (This will take around half an hour.)
Stirring constantly using a wooden spoon to avoid burning. (Taste, and add more sugar when needed)
Add in the cornstarch (corn flour) to thicken the filling. Let it cool in the fridge.
Pineapple filling will last 1 week refrigerated.
For the crust
Ingredients
100g plain flour
50g butter (room temperature)
25g caster sugar
1 egg yolk (white can be used for glazing)
Vanilla essence and pinch of salt to taste
But if opt for shortbread base:
115g plain flour
50g butter (room temperature)
35g sugar icing sugar
1 egg yolk (white can be used for glazing) <---- optional
Vanilla essence and pinch of salt to taste
In a clean dry bowl, add flour and sugar and mix.
Cut the butter in cubes and add to the batter.
Mix until it forms into a dough

(I used my hands)

Half way through, make a hole in the middle and add the egg yolk.
Clingwrap the dough and refrigerate for at least 30mins.(

essential in a warm country. Best to place the dough in the bowl into the fridge so that the bowl remains cold when working on the dough

)
Assembling together
Preheat the oven to 160°C/320°F.
Take approximate 15-20g dough and roll it into a ball. (

Do use flour on hands while working on the dough. This avoid too much sticking

)
Gently place it into the small muffin tray and start pressing from the middle. Form a nice 'cup'. This should only fill up to half the small muffin tray size. (

you should stop once you see vaguely through to the base

)
With a teaspoon, take about half of the pineapple filling and place it into the middle of the small muffin tray.
Bake about 15-20 minutes or until the edge of the crust turn brown.