Yessss, I manage to bake something in the most busiest time of my life, muahaha. All thanks to my lovely Fiance who loves this cheesecake to bits. The fluffyness of this cake absolutely makes it so light to eat and of course tempts one to have a double the serving instead :P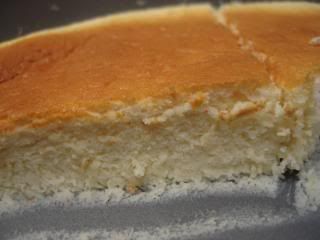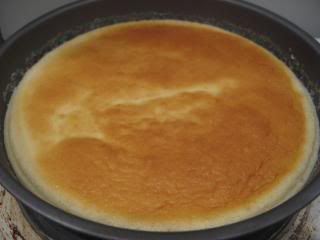 What I was proud off was that I finally got over the anxiousness of whisking the egg whites with caster sugar. The last time I did, it didn't rise. Phew!
(Other reference's source:
Diana's Dessert's cotton soft cheesecake
)
Makes 1 x 9" cake or 2 x 8" cake.
Ingredients
250g cream cheese
50g butter
100ml fresh milk
60g superfine flour / plain flour - sifted
20g corn flour - sifted
6 egg yolks
1 tbsp lemon juice
¼ tsp salt
6 egg whites
¼ tsp cream of tartar
140g caster sugar
Method
Melt cream cheese, butter and milk in a bowl over a pot of hot water.
Cool the mixture.
Beat in the egg yolks and lemon juice and mix well. Sift in flour and cornflour and mix well.
Whisk egg white with cream of tartar until soft peaks form.
Add in the sugar and whisk until glossy.
Add the egg white mixture into the cheese mixture and fold well.
Pour into an 9" round cake pan (Lightly grease and line the bottom and sides of the pan with greaseproof baking paper or parchment paper) or two 8" inch round cake pan
Bake in a water bath for 1 hrs 10 mins or until set or golden brown at 160C.